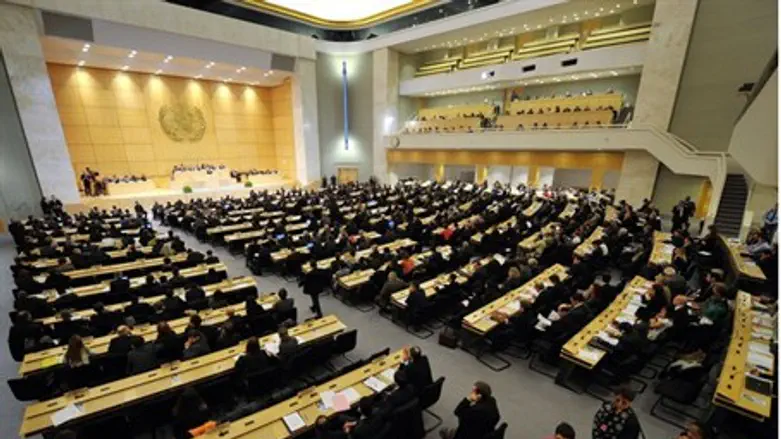 UN Human Rights Council
AFP photo
In a very ironic move, a host of countries with questionable human rights records on Tuesday won seats on none other than the UN Human Rights Council.
Among the countries to win seats on the council are China, Russia, Algeria, Cuba, Vietnam and Saudi Arabia which came under fire from Amnesty International over its poor human rights record as recently as last month.
AFP reported that the UN General Assembly elected 14 seats on the 47-member council which is taking on increased diplomatic importance because of Syria's civil war and other conflicts.
In addition to the above, France and Britain returned to the Geneva-based body. South Africa, Morocco, Namibia, Maldives, Macedonia and Mexico also secured three year terms, according to AFP.
The move was criticized by groups such as Human Rights Watch and the Geneva-based NGO UN Watch.
"With the return of China, Russia, Saudi Arabia and Cuba, human rights defenders will have their work cut out for them at the Human Rights Council next year," Peggy Hicks, global advocacy director for Human Rights Watch, was quoted by AFP as having said.
"States truly committed to advancing human rights will need to redouble their efforts on key issues, such as accountability in Sri Lanka, grave abuses in Central African Republic and the ongoing crisis in Syria," she added.
Most of the seats were decided in advance as regional groups put forward the exact number of candidates for the seats allocated to their region.
South Sudan, the world's newest nation, failed in its bid to get one of four seats for Africa. It got just 89 votes, the lowest of any country in the vote.
Algeria, China, and Russia each have 10 or more unfulfilled requests for visits by UN rights investigators, according to HRW. Saudi Arabia and Vietnam each have seven outstanding requests.
Hillel Neuer, executive director of UN Watch, called Tuesday's election "a black day for human rights."
"Today the UN sent a message that politics trumps human rights, and it let down millions of victims worldwide who look to the world body for protection," he said.
UN Watch said in a statement that the election results not only cast a dark shadow on the future of the Human Rights Council but also recall its recent past. In 2006, the organization reminded, the Council was created to replace its morally corrupt predecessor, the Commission on Human Rights, which was criticized by former Secretary General Kofi Annan for its politicization and "declining credibility."
Neuer said, "Despite the much-vaunted 2006 reform – which scrapped the discredited human rights commission and created a new and supposedly improved council — today's election of the world's worst human rights abusers means that we are back to square one. Instead of reform, we have regression."
Saudi Arabia's election to the Human Rights Council comes a few weeks after it was elected to the Security Council, only to reject the seat hours later.
At the time, Saudi Arabia's Foreign Ministry issued a scathing attack on Security Council failures in solving the crisis in Syria and the Israeli-Arab conflict.
UN Watch had welcomed Saudi Arabia's refusal to take its seat on the UN Security Council and said it was a "victory for human rights."
The organization cited Saudi Arabia's own record of violation of human rights, such as banning women from driving, along with its being the world's largest source of funds for Islamist terrorist groups.
One of the reasons for the Saudi decision to reject the Security Council seat may have been to send a message to the United States. Relations between Washington and Riyadh have reportedly been strained since the U.S. backed away from military action against Assad over recent alleged chemical weapons attacks.
It has since been reported that the Saudis would be replaced on the Security Council by Jordan. This was made possible after Jordan, originally a candidate for the Human Rights Council, dropped its bid, essentially allowing a switch between the two countries.