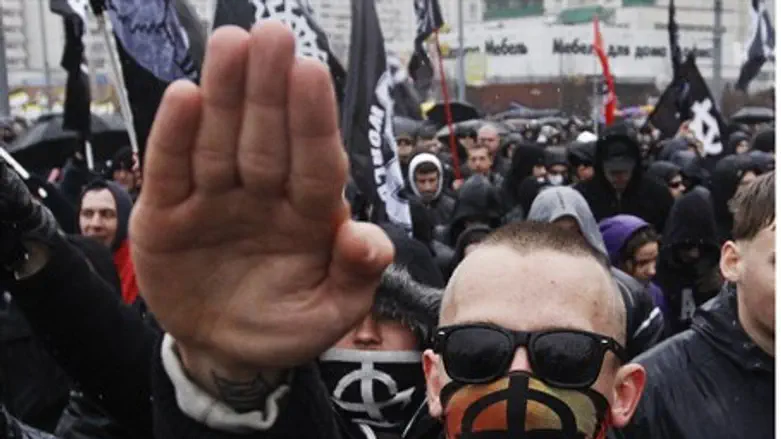 Illustration: Russian Neo-Nazis
Reuters
Ukrainian neo-Nazi mobs have gone on the warpath in recent days, attacking and injuring dozens of foreign students, according to reports on local news sites and social networking sites. Several Israelis, both Jews and Arabs, are said to be among the victims.
The attacks have been featured in Arabic-language Ukrainian papers and have been reported by witnesses on Facebook and Youtube.
Two recent YouTube videos show sudden mob attacks on subway passengers and passersby. The videos are said to have been filmed in recent days in Ukrainian cities (see below).
An Israeli student posting on Facebook reported hearing from Israeli friends in Ukraine that foreign students are being pursued "everywhere," and that several people have been hospitalized. The attacks have included rape attacks on female students, she said.
However, the Ukraine-Presse website, which had raised concerns over the attacks, published a letter from the editor Monday suggesting that many of the recent allegations were simply rumor. Foreign students' organizations have stated that no attacks have been reported over the past two weeks, editor Mohammed Julaq wrote.
Neo-nazi attacks have increasingly become a problem in Ukraine in recent months. In September a fascist Ukrainian mob launched a sudden attack against English World Cup fans, wounding several people. At least three of their victims required hospital care.
The British Foreign Office noted at the time, "Foreign nationals have been the victims of violent crime in Kiev… Travellers of Asian or Afro-Caribbean descent and those belonging to religious minorities should take extra care."
In recent weeks gay activist sites have noted a spike in vicious mob attacks on men and teenage boys in Ukraine and Russia. Some of the victims are apparently members of the gay community, while others are foreign students who neo-Nazi attackers have accused of pedophilia.
An Iraqi student was attacked by notorious neo-Nazi Maxim Martsinkevich in late October. Just days later a group of Russian neo-Nazis published videos and photographs detailing a brutal and degrading attack on a young student from South Africa who they accused of being homosexual.
Martsinkevich has encouraged followers to go "hunting" for homosexuals to attack, and to make their attacks on allegedly gay men public. He recently published photos and video of his own violent and humiliating attack on two Ukrainian teenagers. Among other things, he forcibly shaved part of their heads and forced them to dance together, filming as one of the boys broke down in tears.