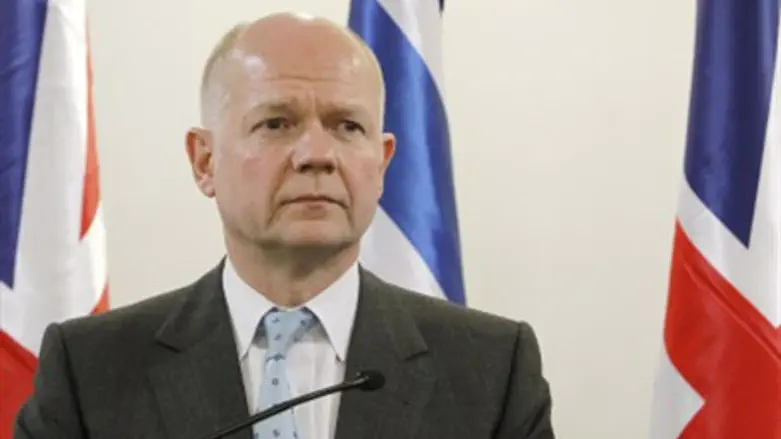 British Foreign Secretary William Hague
Israel news photo: Flash 90
Britain has resumed ties with Iran, 2 years after severing diplomatic relations due to a 2011 embassy attack, Al-Arabiya reports. 
Reuters adds that Britain's Foreign Office has named Ajay Sharma, currently the head of the ministry's Iran department, as the next British Ambassador to the Regime state. Sharma hopes to ascend to the post later this month. 
"I am very much looking forward to renewing direct UK contact with the Iranian government and society," AFP quoted Sharma as saying in a statement. "This is very much in the interests of both our countries." 
Iranian news agency Fars reports that an Iranian official "will travel to London in the near future to examine the situation of Iran's possessions and buildings in Britain and to improve consular activities," according to a statement made by the foreign ministry.
British Foreign Secretary William Hague meanwhile confirmed the reestablishment of diplomatic ties between Britain and Iran.
Iran ordered British officials to leave the country in 2011, after determining their allegiance with the US in stopping a nuclear Iran. Three days later, a government-organized student protest ransacked the embassy, burned the British flag, and chanted hate slogans against Western powers. Britain responded by severing all diplomatic relations with Iran, closing the embassy and evacuating British nationals. 
The move follows renewed Western willingness to embrace Iran after talks of establishing a diplomatic deal with the international community. While no agreement with the UN or with the P5+1 committee in Geneva has yet been confirmed, the US and other major powers are eager for a diplomatic solution. Iran has allegedly agreed to reduce its nuclear capabilities in exchange for a lift of economic sanctions - a move which Israel has publicly condemned. 
Britain, specifically, has been more open to talks. Foreign Minister William Hague told AFP this week that Britain "does not seek a confrontational relationship with Iran, as I explained to the foreign minister, and we are open to better relations."