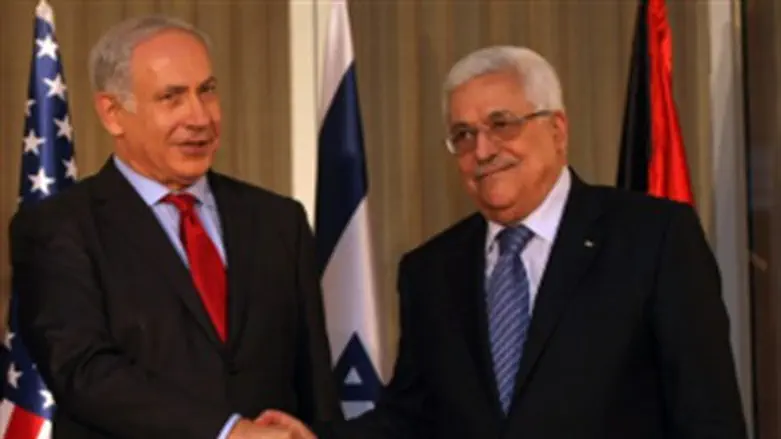 Netanyahu and Abbas (archive)
Flash 90
A top negotiator with the Palestinian Authority said on Monday that failure to reach a peace deal with Israel would be better than inking an agreement which allows it to continue the "settlement building," meaning Jewish construction in Judea, Samaria and Jerusalem.
"In the absence of political will from the Israeli side to take the negotiations seriously, we believe that it is better not to reach a deal than to reach a bad deal," the negotiator, Mohammed Shtayyeh, said in a statement quoted by the AFP news agency.
Shtayyeh, who has been deeply involved in the talks since they began at the end of July, described a bad deal as "an agreement based upon Israeli colonial ambitions rather than upon internationally accepted principles of international law."
Israel, he charged, was merely using the negotiations as a front for deflecting international pressure over its construction in Judea, Samaria and Jerusalem, areas which the PA wants for a future Palestinian state.
"By insisting on building settlements in Palestine, the government of Israel is showing ... that it is not interested in reaching a peace agreement. They show no seriousness," he said, according to AFP.
"Israel is using negotiations only as a tool to avoid international  pressure while on the ground it continues its colonization plans rather than peace plans," Shtayyeh accused the Jewish state.
The PA has continuously expressed anger about recent Israeli announcements of new construction in areas it claims for itself, despite the fact that it was informed in advance that Israel will continue to build as talks continue. The areas in which Israel plans to build are areas that even the PA has previously accepted will be part of Israel in a future deal.
Last week, a senior PA official declared that the organization would refuse to continue the peace talks as long as "Jewish settlement" continues.
"The Israeli side is determined to continue its settlement and we cannot continue negotiations under these unprecedented settlement attacks," the official said.
Shtayyeh's comments on Monday came several days after the latest visit to the region by U.S. Secretary of State John Kerry, whose diplomacy got the talks restarted. Kerry set a timetable of nine months for the talks but, according to some reports, very little progress has been made in the talks so far and there is a wide rift between the positions of the two sides.
Ahead of Kerry's arrival last week, several Israeli press reports suggested that the Americans were considering putting together a proposal for a possible interim agreement in a bid to force the talks out of deadlock.
Shtayyeh, however, rejected any interim agreement, saying, "We are not looking for an extension of the interim period or any other kind of interim agreement."
"What we seek is a comprehensive and final agreement that provides the requirements of justice for Palestine," he declared.
Prime Minister Binyamin Netanyahu has rejected the PA's contention that recent decisions on construction in Jerusalem, Judea and Samaria contravene agreements reached at the outset of negotiations. He accused the PA of creating "an artificial crisis" over the construction.