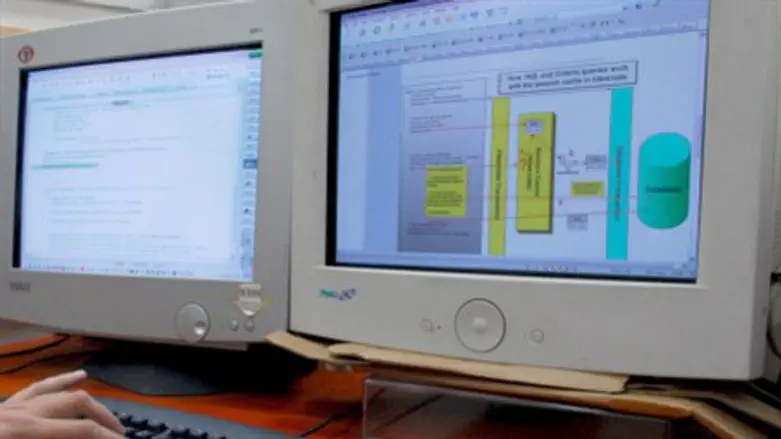 Accessing website (illustrative)
Flash90
Hamas officials from Gaza's Interior Ministry released a warning to the general public about the Holol (lit. "solutions") website, claiming it is a ruse set up by the Israeli Mossad to lure Gaza residents into Israel. 
On their official Facebook page, the Ministry warns that the "Zionist Mossad" is trying to establish ties with Gaza residents in the form of humanitarian and financial aid. The "About Us" page of the website cites the creators as "an organization that was founded to help our Gaza brothers to relieve them of the hardships they currently suffer."
The page then continues to address potential readers, urging them to contact the organization in order to rally international support from Israel to help their families escape poverty and discrimination. 
The "Employment" page states, "due to our connections with the Israeli Civil Administration, we can help you bypass the bureaucratic tape and procedural processes which prevent you from leaving Gaza." The site also offers Israeli medical assistance, "due to connections with the Ministry of Health and the Israeli Civil Administration." 
Palestinian Arabs interested in contacting the website's officials are asked to provide their full name, telephone number, email, topic of inquiry, and an explanation of why they are asking for help. 
Israel continues to provide various forms of humanitarian aid to Gaza - including electricity, supplies, and medical care - which Hamas has been known to refuse. The website's establishment - and Hamas's jittery reaction to it - follows renewed efforts to overthrow Hamas rule in Gaza from within, spearheaded by the Tamarod movement, which instigated the ouster of Egyptian President Muhammed Morsi.