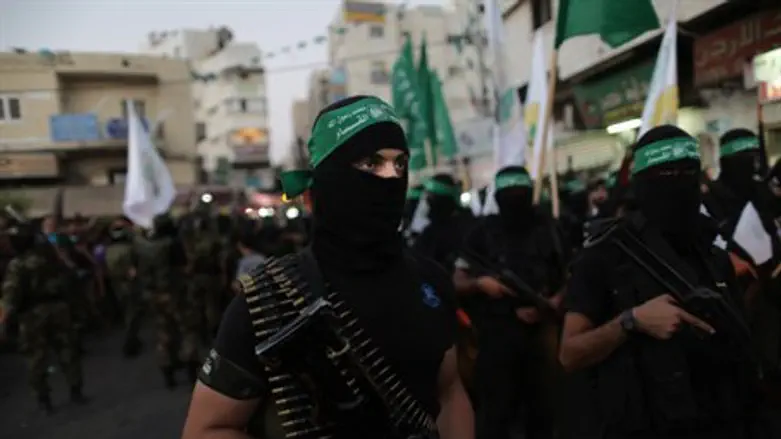 Hamas terrorists in Gaza
Flash 90
A spokesman of the Al-Qassam Brigade military branch of Hamas recently expressed the organization's intentions to continue attacking Israel, promising that the Hamas terrorists will continue working in secret to dig new terror tunnels and continue fighting against the "occupation."
Just last Thursday 5 IDF soldiers were wounded in a clash with Hamas while demolishing a terror tunnel. The IDF Chief of Staff Benny Gantz promised continued action against the tunnels, calling them a serious threat.
The comments came at a conference attended by Ismael Haniyeh, head of the Hamas government, as well as Hamas ministers and parliament members, and followed calls by a Hamas official Thursday to kill or expel all Jews from Israel.
On Thursday a spokesman of the Al-Qassam Brigade said his terrorists are watching the borders with their fingers on the trigger and their rockets ready for the "great liberation," presumably of "Palestine."
He added that "the coming days will bring tidings of victory with Allah's help."
In a message to the Israeli public, a spokesman said "O' frightened Zionists, know that our struggle with you has not yet begun," adding that the recent clashes are merely a "preparation for our path to liberate the Al-Aqsa Mosque."
Since US Secretary of State John Kerry's threats of a third intifada this Thursday Israel has witnessed a string of attacks in Judea and Samaria, leaving many concerned over the possibility of a "Kerry intifada" that Hamas might escalate.