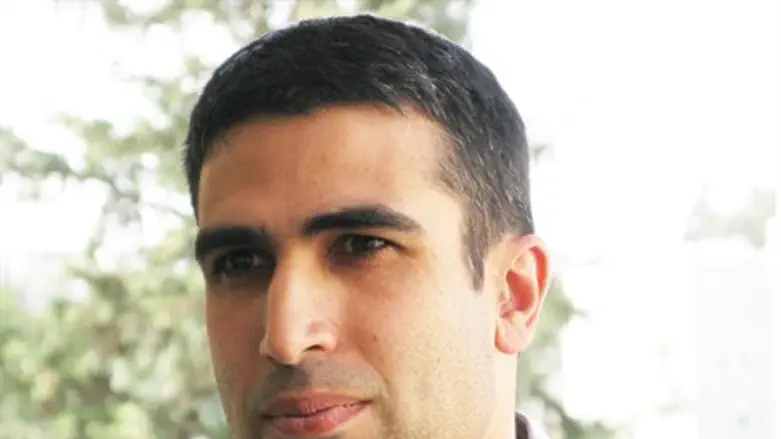 MK Yoni Chetboun
Arutz 7
MK Yoni Chetboun of Bayit Yehudi (Jewish Home) on Thursday condemned the attempted terrorist attack at Tapuach Junction earlier in the day. Amid flagging peace talks with the Palestinian Authority (PA) and a spurt of attacks, Chetboun said "terrorism must be opposed and defeated, not spoken to."
The attack in question occurred at Tapuach Junction in Samaria, when a terrorist opened fire with a flare gun on Israeli civilians at a hitchhiking stop in the direction of Jerusalem. Soldiers of the IDF's Givati Brigade shot the terrorist dead, while no Israelis were hurt.
Terrorists, said the MK, appear to be heeding US Secretary of State John Kerry's threats of an intifada terror war on Israel if it doesn't make concessions. Kerry made the threats on Thursday, warning that Israel would undergo "chaos" and be internationally isolated if it doesn't create a Palestinian state in its midst.
That same Thursday night, in addition to the Tapuach attack, terrorists opened fire on IDF soldiers outside Bil'in and attempted to run over an officer with their car.
Later Thursday night, IDF soldiers foiled another terrorist attack, this time carried out by a knife wielding PA terrorist who was shot dead trying to stab soldiers at a checkpoint near Bethlehem.
Meanwhile, Friday morning, a Molotov cocktail was thrown at an Israeli car near the Gush Etzion city of Efrat in Judea. The firebomb left two people lightly wounded.
MK Chetboun, who is a member of the Knesset Foreign Affairs and Defense Committee, said "Israel has received a reminder that she is dealing with terrorists. I hope that Livni and Kerry, as supporters of the two state solution, are aware of the situation on the ground."
He called on Israel to "respond quickly and forcefully, otherwise the morale of troops will be damaged, and so will our deterrence capability."
Shomron Council Head Gershon Messika lauded the IDF for protecting the youngsters who were attacked at the Tapuach Junction stop, and remarked that there has been a sharp rise in terror attacks in the region accompanying the peace talks with the PA - as there is whenever there are talks.
Benny Katzover, chairman of the Shomron Residents' Council, echoed Messika's praise of the IDF's actions, and likewise added that "it is clear to everyone, from past experience, that holding negotiations with the murderers harms the state of Israel's security."
The Tapuach Junction attack was caught on video: