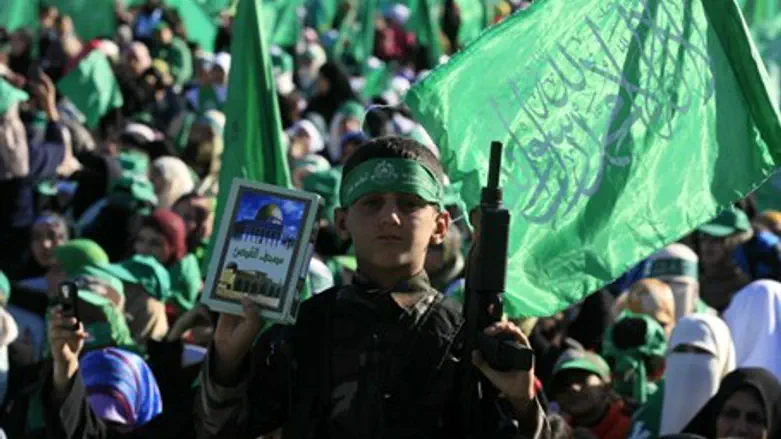 Hamas rally in Gaza (archive)
Flash 90
A senior Hamas official declared on Thursday that his group intends to stick to its mission - "liberating" all of "Palestine" (meaning all of Israel).
The official, Khalil Al-Khiya, stressed that Hamas will never give up on one inch of "Palestine". He made the comments during a memorial event for five Hamas terrorists who were killed by IDF soldiers in Gaza last week.
"This way (in which the dead terrorists acted) sends a message to the Zionists, according to which they have no place in the land of Palestine," said Al-Khiya, who threatened, "We shall expel you from our land, we will fight on it against you, and we will either kill you or expel you from it after you surrender."
Al-Khiya praised the "resistance" in Judea and Samaria, calling on Palestinian Authority Arabs in the region to "continue the path of Jihad."
He stressed that the jihad is the way to achieve victory. The event was attended by top officials in Hamas, including the deputy head of its political bureau and Hamas's Prime Minister in Gaza, Ismail Haniyeh.
The statement by Al-Khiya follows another one by a senior Hamas politician, who earlier joined the call for an "intifada" terror war against Israel over Jews' visits to the Temple Mount.
Gaza Minister of Religious Affairs Ismail Radwan accused Israel of "raiding the holy Aqsa Mosque" and called for a holy war, according to Hamas's Al-Qassam website.
Each "raid" on the mosque brings a third "intifada" terror war closer, he warned, using the term commonly used by extremist groups to describe Jewish visits to the Mount. Any attack on the mosque is an attack on "the Islamic nation and its dignity," he declared.
In recent days and weeks there have been several calls by PA Arab factions for a new "intifada" terror was against Israelis. These calls have not been made only by Hamas, which rules Gaza, but also by the armed branch of Fatah, headed by Mahmoud Abbas whom the West calls a "peace partner" with Israel.
Several weeks ago, Fatah's armed branch, the Al-Aqsa Martyrs' Brigade, declared war and announced that it would give the "green light" to terrorist attacks targeting Israelis.
At the same time, the Palestinian Authority reportedly rejected recent calls by Hamas and Islamic Jihad for a "third intifada" in Judea and Samaria, saying it would "not allow the West Bank to become an arena for chaos to serve a private agenda."