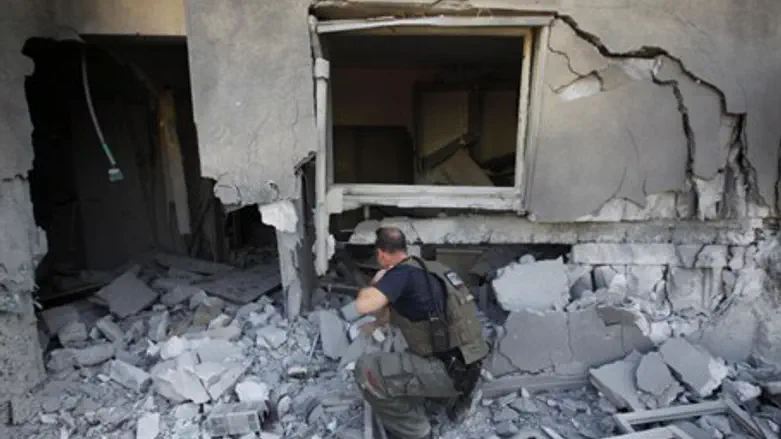 Be'er Sheva home damaged by Gaza rocket
Flash 90
Despite the recent Israeli Air Force operations in Gaza, which were in response to the resumption of rocket attacks and the building of terrorist arms tunnels, Hamas rocket attacks on Israel have declined significantly since Operation Pillar of Defense in 2012 - the result, officials say, of an effective military deterrent. 
According to Maariv, while over 200 rockets were launched at Southern Israeli cities in 2012, only 40 have been fired so far in 2013. IDF officials have stated that Hamas has been "intimidated" by Israeli military might after successes in last year's Operation Pillar of Defense, which killed top Hamas officials like Ahmed Jabari, the mastermind behind the Hamas takeover of Gaza who also played a significant role in the 2006 Gilad Shalit kidnapping. 
One year later, the Operation has proved not only to have stopped the barrage of rocket fire from Hamas terrorists in the short-term, but to have significantly damaged the organization's infrastructure and reduced missile capabilities aimed at Israel's largest cities, according to Maariv. 
The statistics follow reports of civil unrest in Gaza, as rebel group Tamarod plans mass demonstrations of civil disobedience against Hamas control for next week, on November 11. The umbrella Tamarod organization is responsible, at least in part, for the toppling of Muslim Brotherhood rule in Egypt. 
Despite optimism, not all is quiet on Israel's Western front, however; Hamas fired a mortar shell on Israel just last week. The shell landed in an open field; no injuries were reported.