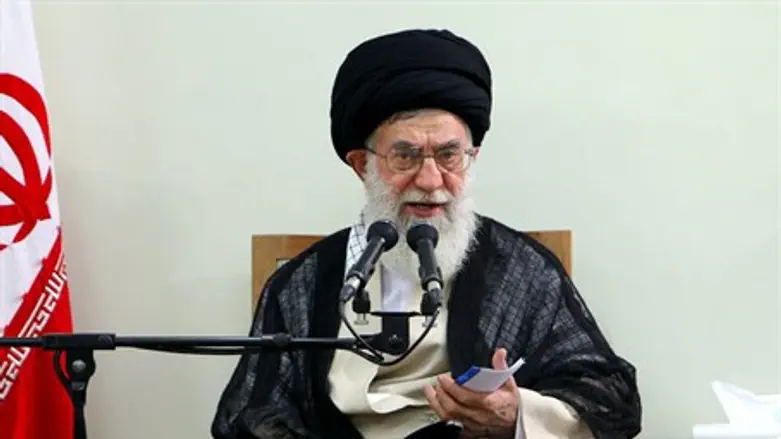 Ayatollah Ali Khamenei
AFP photo
Iran's Supreme Leader Ayatollah Ali Khamenei attacked Israel and the US in remarks on his state-backed website today (Sunday), firing at Israel's supposed "illegitimate and bastard" regime and labeling the US alliance with Israel as an alleged "indulgence." 
"The Americans have the highest indulgence toward the Zionists," Khamenei stated, "and they have to. But we don't share such indulgence[s]." Khamenei further referred to the US as a "smiling enemy" who is not to be trusted for leaving the option of a US and Israeli strike on Iran in the event of continued nuclear weapons development. 
This is not the first time Khamenei has attacked Israel with verbal force. In a speech last year, the dictator called Israelis "ferocious Zionist wolves who digest the Palestinian people." 
Today, Khamenei's inflammatory remarks follow reports that he has been in ill-health. Arabic media sources have noted that the usually highly public leader, now 74, has remained in seclusion for over three weeks, leading to speculation about Iran's future.
Further reports of a possible change in leadership have been brought this week by United Nations watchgroup the International Atomic Energy Agency (IAEA), which reported that Iran may be willing to engage in negotiations with world leaders regarding its controversial nuclear program. 
Regarding the official UN negotiations, Khamenei has reportedly said that he is "not optimistic" and that "the country should rely on itself." 
No official Israeli response has been issued yet regarding the claims.