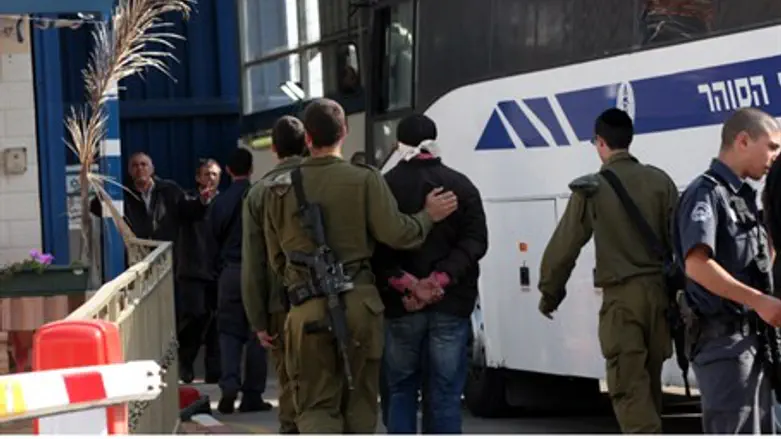 Terrorist release (archive)
Flash 90
A bereaved sister whose brother was killed by Arab terrorists in 1985 said on Tuesday that her family would never be able to accept it if Israel ever chooses to release her brother's murderer.
Orna Amrani spoke to Arutz Sheva on Tuesday, hours before Israel was to begin releasing 26 terrorist murderers as a "gesture" to the Palestinian Authority.
Amrani's brother, Shealtiel Akiva, was murdered in 1985 as he returned home to Rosh HaAyin from his army base. Akiva accepted a lift from an Arab neighbor, Ali Abu Jaber of Kafr Qasem, whom he knew and trusted.
In addition to Abu Jaber, several other terrorists took part in Akiva's murder. One of them, Al-Afu Shakir, was released as part of the current "gesture". Abu Jaber, who planned the murder, is set to be released in the next round.
"We will not be able to accept Abu Jaber's release," said Orna Amrani, who was nine years old when her brother was murdered. "Imagine I go shopping in the market on Friday and run into Abu Jaber. Kafr Qasem is right here next to Rosh HaAyin."
Amrani added that hearing about the terrorist release took her family many years back.
"It brought us back to the days when we were told about the finding of the body, I was nine back then, my mother is 75 years old today, and I can truly say today that time doesn't heal the pain. The pain we are experiencing today is much stronger."
She accused Prime Minister Binyamin Netanyahu of deceiving his voters, saying, "As a Likudnik I am ashamed that Netanyahu is our prime minister. One time he was against releasing terrorists, now he has turned around."
Amrani warned that if Abu Jaber is ever released, her family will physically prevent the release from taking place.
"We will wait for him at the entrance to Kafr Qasem, we will not allow him to go free," she said.