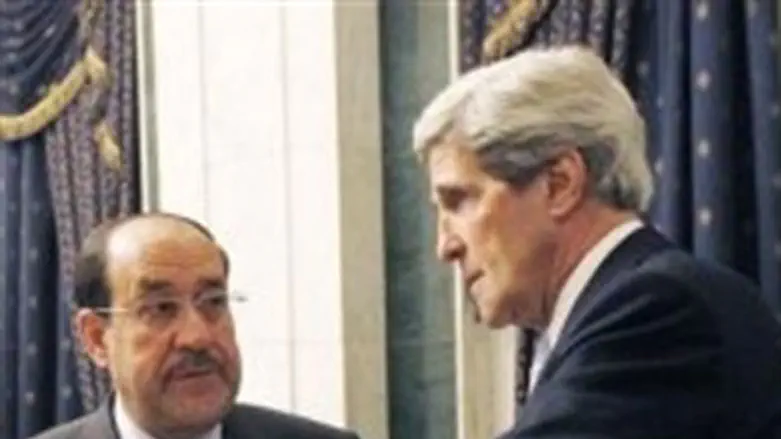 Kerry meets Iraqi Prime Minister Nuri al-Mali
AFP photo
Iraq's Prime Minister Nuri-al-Maliki has flown to the U.S. to appeal for assistance in crushing an upsurge in Sunni-led violence, The Daily Star reports. 
Almost 3 years since the U.S.'s official December 2011 withdrawal from the region, the Shiite-led government has been facing increasing violence from Sunni-led militant factions, who oppose the change in State policies since U.S.-led forces ousted the country's Sunni leader Saddam Hussein in 2003. 
While Iraq's security forces have been trained by the U.S. at the cost of some $25 billion, they still struggle to maintain order among the upswing in faction-based violence - the death toll from which has reportedly reached 5,300. In one of the latest incident, this past Sunday's car bombings in Baghdad, 41 were killed in 10 consecutive explosions. 
At an airport news conference before his departure, Maliki urged US leaders to "supply Iraq as quickly as possible with weapons of an offensive nature to combat terrorism and chase the armed groups." 
The move also follows recent US efforts to slowly renew diplomatic relations with Iran, Iraq's closest geographic neighbor and rival, oft-speculated to be the ultimate benefactor from the tipping of the balance of power which followed since Hussein's assassination. 
Washington has provided no comment on the upcoming visit.