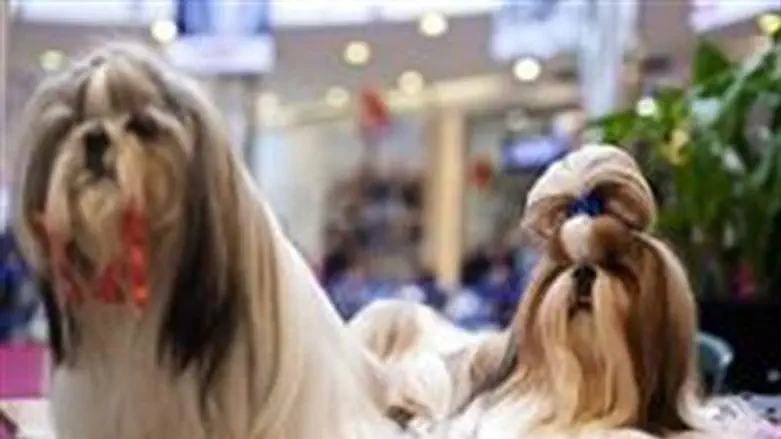 Lethal weapon?
Flash 90
Two puppies from Egypt were rescued just moments before they were to be used by the Muslim Brotherhood in their protests as "puppy bombs" dipped in gasoline and set on fire.
The revelation about the Brotherhood's cruel tactic used two weeks ago at Tahrir Square during demonstrations against the ouster of President Mohamed Morsi's was made known by Robyn Urman, a pet rescuer in Tenafly, New Jersey, as reported by CBS 2.
Urman, who works with Pet ResQ Inc., was contacted by Mervat Said, an animal rescue volunteer in Egypt, and flew the puppies to New Jersey to find homes.
This is not the first case of dogs being rescued from animal cruelty in Egypt.  On June 14, 2013, NECN reported about a litter of seven orphaned puppies who were rescued by Egyptian movie star Phaedra Al Masri.  Al Masri also serves as a spokesperson for PETA, and took the dogs in after hearing their mother was poisoned when the puppies were only two weeks old.
In conjunction with the Egyptian Society of Mercy for Animals, Al Masri posted about the dogs through social media sites, and found homes for them in Canada and America.
Protests have shaken Egypt since Morsi was deposed in July, and clashes between police and Brotherhood members have been a frequent occurrence. Just last Friday saw thousands of protesters take to the streets throughout Egypt.
Cases of politically motivated animal cruelty have become a known phenomenon in the Arab world, the most common victims being accused of 'spying' for Israel.  There have been numerous stories of birds being captured with Israeli 'spy' devices which turn out to be tracking devices, the most recent such story being from Lebanon where an eagle was captured two weeks ago by Hezbollah and killed.
Israeli bird researcher Gilad Friedman spoke about how the "spy" animal saga illustrates a lack of awareness within the Arab world towards attempts to protect animals from cruelty or extinction.