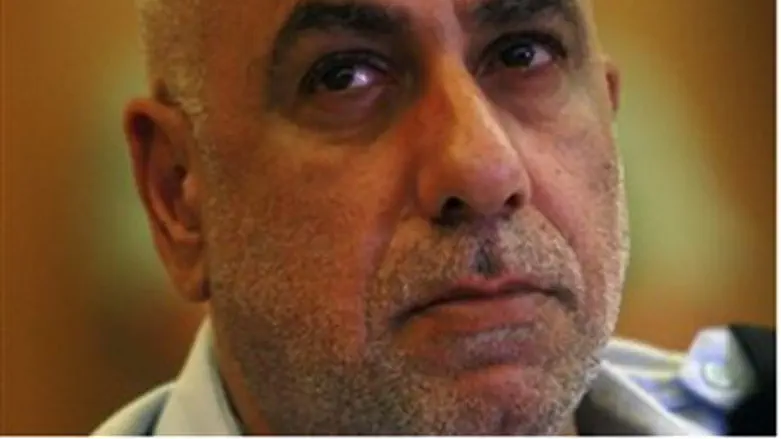 Maj. Gen. Niso Shacham
Flash90
The controversial former Jerusalem District police chief Niso Shaham was officially relieved of his commission as a police officer Monday. Public Security Minister Yitzchak Aharonovich fired Shaham Monday, after the former chief was accused of various financial and sexual improprieties.
The recommendation to fire Shaham was made by National Police chief Yohanan Danino. The firing came despite an announcement last week by Shaham that he was planning to leave the police. The announcement came days after the police internal affairs unit filed an indictment against Shaham for fraud, service in bad faith, and sexual harassment involving several women.
Sources in the police department said that the decision to fire Shaham despite his decision to resign was made in order to make an example of him to fellow officers.
According to the indictment, Shaham, as a senior officer, on a regular basis befriended young female officers who were new to the department, and forced them to engage in a series of trysts with him. Many of the officers were far younger than him. Besides the criminal charges, Shaham was charged with violating numerous internal police rules about proper conduct in relating to other officers. As a result he is likely to lose his pension benefits.
Shaham will be best – or worst – remembered for his role in the 2005 "Disengagement", when he enthusiastically egged on officers to treat the Jews being evicted from their homes in Gush Katif with as much insensitivity, if not violence, as possible.
Shaham, then Southern District Police Commander, became infamous when a Channel 10 cameraman caught him cursing – nearly foaming at the mouth, actually – during the police evacuation of protesters from Kfar Maimon, where thousands had massed in the days leading up to the disengagement to protest the removal of Gush Katif Jews from their homes by the Sharon government.
He was filmed using choice curse words and other forms of vitriol, saying that the protesters "should all burn."
Telling police officers to physically attack protesters and set water cannons on them to break up the protests in Kfar Maimon, Shaham told officers, "Don't have any mercy on them. Use any means necessary against them, including arrests and physical force. They should all burn, these (expletive deleted) religious, I know who they are. I am an expert on these Hareidim."

MKs and right-wing leaders expressed shock at Shaham's comments at the time, but no disciplinary action was taken. In fact, Shaham himself had nothing to say about his behavior – until three years later, in 2008, when he asked to be appointed Jerusalem District Deputy Commander.
In order to get the job, Shaham issued an apology, saying that "my expressions at the time were unacceptable and hurtful. Since that incident, I have felt regretful over what happened and have lost sleep over it." He said that during his time serving in the police department, "I have come to know the Zionist-religious community well, and I admire their good citizenship principles and actions in  many of the legitimate avenues of action in the State of Israel." MKs and officials condemned the apology, saying that it was far from what was really needed.