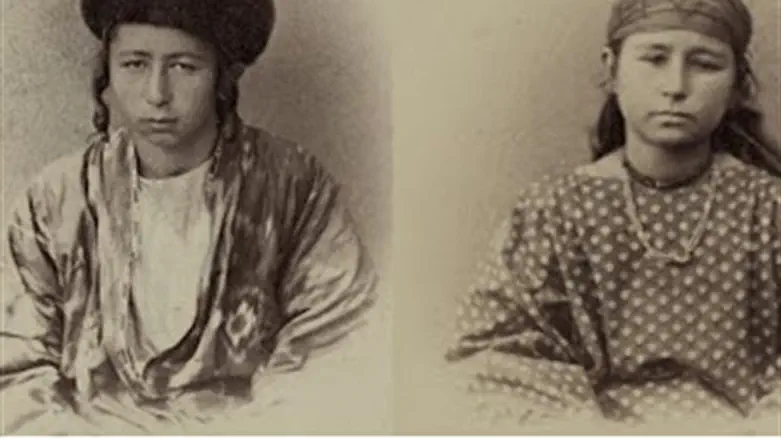 Samarkand 1870
LBD, Lib of Con.
At right and on the main page are the groom Barukh and the bride Khanna, two separate portraits joined (c 1870).
The wedding ceremony of Barukh and Khanna, circa 1870, is pictured below. The bride and groom are beneath a tallit serving as the chuppa (canopy). Channa is the tiny figure under a "burqua," according to the original caption. The man in the center is extending a cup of wine as part of the ceremony -- sheva brachot, according to the  caption. The two mothers, wearing turbans, are on the sides  of the bride and groom.


In the past,  we uncovered pictures in the Library of Congress files showing Bukhari Jewish life in Samarkand some 140 years ago.  We
posted
pictures showing Jewish children in school, family life, a sukka, and more.
Today, we post photos from another group of pictures, the wedding of Barukh and Khanna around 1870.

Signing the ketuba, the marriage contract. The bride (peaking out from under her burqua) and the groom are already under the prayershawl,  tallit, with their mothers on either side.
At every Orthodox wedding, the bride's veil is placed over her face by the groom for the ceremony, and at Hassidic weddings to this day, brides have their faces covered with an opaque veil (called dektich) at the ceremony, symbolizing the wedding of the Patriarch Jacob to Leah, whose face was covered.

A party for the women and girls on the eve of the wedding. Click here to see Barukh sitting with the men

Bukharian Jews, from what is today the Central Asian country of Uzbekistan, may be one of the oldest Jewish communities in the world.  According to some researchers, the community may date back to the days of  the destruction of the First Temple and the Babylonian exile.  Over the centuries, the community suffered from forced conversion to Islam and from Genghis Khan's pillage and destruction of the region. 

Earlier, the groom met with Khanna and her parents

Around the time these pictures were taken the Bukharian Jews began to move to Israel.  They established an early settlement in the Bukharan quarter of Jerusalem, near Geulah, where there is still a Bukharian soukh (market).

The Bukhari Jewish families discuss the dowry prior to a wedding(circa 1870). The caption identifies the two bundles behind them as the dowry


Original caption: "A group of people escorting the bride and groom (the couple on the far left) to a house"