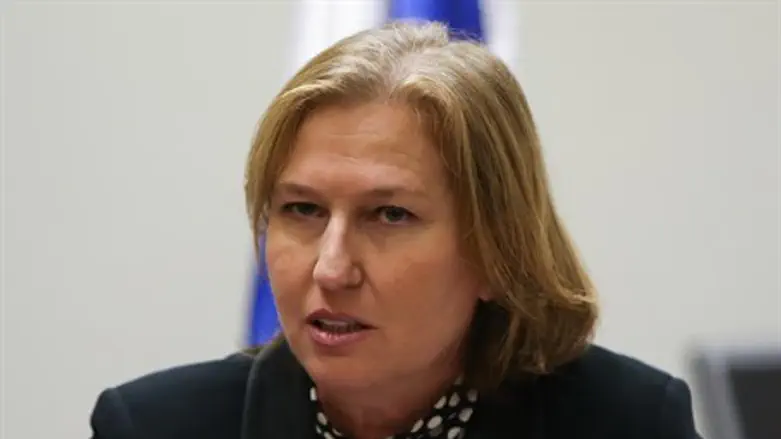 Tzipi Livni
Flash 90
Political sources who spoke to Arutz Sheva on Friday morning revealed that Justice Minister Tzipi Livni, who heads Israel's negotiations with the Palestinian Authority, has been working to bury a bill that would ban the release of terrorists as a "good-will gesture" to the PA.
Livni apparently fears that the bill would make it harder for her to appease PA leaders, who have repeatedly threatened that there will be no peace agreement with Israel without the release of every terrorist from Israel's prisons.
A representative from the government secretary's office reportedly called one of the MKs who initiated the bill and said it would be taken off the table of the ministerial committee for legislation.
Livni is reportedly pressuring Prime Minister Binyamin Netanyahu to join her in trying to put a stop to the bill before it comes to a vote.
Sources in the Bayit Yehudi (Jewish Home) party expressed outrage at the reports. "If Livni is so eager to free murderers, she'll have to put it to a democratic vote," they insisted.
A statement released by the party on Thursday night argued that it is more important to keep terrorist murderers in jail than to keep Livni in the government.
Party sources condemned what they said was a "cynical and immoral" attempt by Livni to make permits for construction for Jews in Judea and Samaria contingent on terrorist release. If it comes down to that, they said, "It would be better that the Prime Minister not free murderers, and not build."
The proposed law would not prevent the release of several terrorists in the upcoming days, but would present a legal obstacle to similar "gestures" in the future.
The ministerial committee tasked with oversight of terrorist release has not yet reached a final decision regarding the identity of the terrorists who are to be released next week. However, sources involved in the process say the names that are on the table are those of "mass murderers and arch-terrorists."
A recent terrorist release saw the government set free several convicted murderers, including terrorists who burned young children alive, and who slaughtered senior citizens with axes.