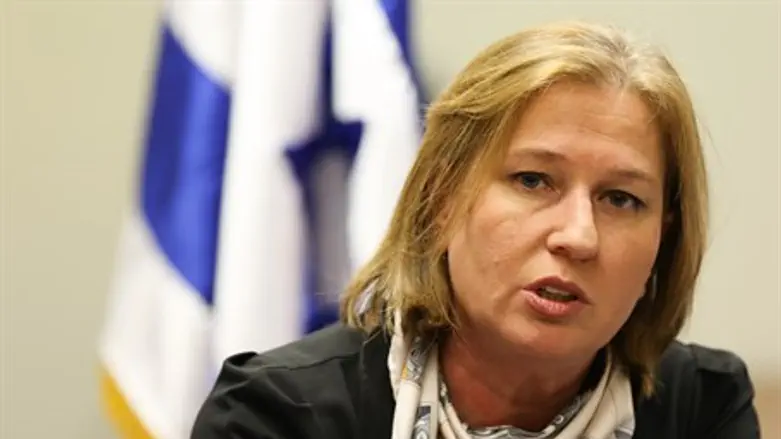 Top Israeli negotiator Tzipi Livni
Israel news photo: Flash 90
Israel's top negotiator, Justice Minister Tzipi Livni, has once again urged Israelis to back an agreement with the Palestinian Authority which would see a 23rd Arab state established in Judea and Samaria.
In a recording aired at the World Jewish Congress in Jerusalem on Wednesday, Livni said that in her view the establishment of a Palestinian state was inevitable, and claimed that it was therefore in Israel's interest to negotiate more favorable terms in peace talks, or else risk the establishment of a Palestinian state with international backing on terms unfavorable to Israelis.
"Stalemate can lead to a Palestinian state that would be forced on us - not as the outcome of negotiations that represent the Israeli interest," Livni asserted.
"When there is no peace process, there is no legitimacy to act in order to keep Israel's security. So stalemate is against Israel's security needs," she claimed.
Livni added that she sees the peace process "not as a favor to Europe or to the United States of America. It is our own interest,"  adding that while Israel has a strong military, continued US support was also vital for the Jewish state.
"Security is guaranteed by more than just militaries. Our security is also guaranteed by our relationship with the USA," Livni's spokeswoman quoted her as telling the congress.  
US Secretary of State John Kerry, who in July nudged Israel and the Palestinian Authority into resuming talks frozen since September 2010, was on Wednesday meeting Israeli Prime Minister Binyamin Netanyahu in Rome, according to officials, to discuss Iran, Syria and the talks with the Palestinian Authority.
The talks were due to run for seven hours.
Speaking at a pre-meeting press conference, Netanyahu once again reiterated his concern over the Iranian nuclear program.
"Iran must not have a nuclear weapons capability, which means that they shouldn't have centrifuges (for) enrichment, they shouldn't have a plutonium heavy-water plant, which is used only for nuclear weapons," the Prime Minister told reporters.
"They should get rid of fissile material, and they shouldn't have underground nuclear facilities, (which are) underground for one reason - for military purposes." 
Meanwhile, a PA official said on Tuesday that negotiators from the two sides held a new round of peace talks in Jerusalem the day before, focusing on the issue of water resources.   
Monday's session was attended by Livni and PA negotiators Mohammed Shtayeh and Saeb Erakat, the official said. 
The official did not give further details, but the question of water rights is one of the core issues that must be settled in any peace deal.
Kerry said on Monday that negotiations, which take place under an American-imposed media blackout, have "intensified."
Speaking in Paris, Kerry said that since the end of July, 13 direct meetings had taken place, including three in the past four days.  
"The pace has intensified, all the core issues are on the table and they have been meeting with increased intensity," Kerry said, and added that "It is no secret to anybody that this is and remains a difficult process, there is no shortage of passionate skeptics."