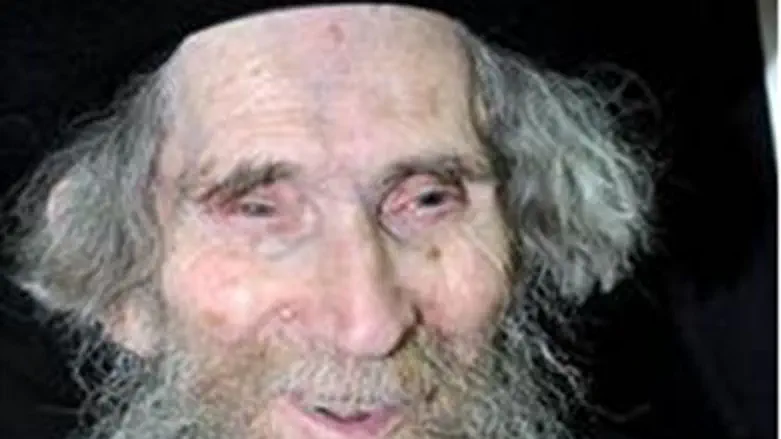 Rabbi Aharon Leib Shteinman
Flash 90
A red line was crossed Tuesday night in intra-hareidi political rivalry when a man in his 20s broke into the home of Rabbi Aharon Leib Shteinman, who is 99 years old, and physically attacked him.
The incident took place as votes in the municipal elections were still being counted nationwide, and while Rabbi Shteinman was preparing a Torah lesson he intended to give Wednesday. It is seen as being connected to the municipal elections, in which the faction that follows Rabbi Shteinman received 8 seats on the Jerusalem Municipal Council, but Rabbi Shteinman's favored candidate for mayor, Moshe Lion, lost.
Sources in Rabbi Shteinman's home said that the attacker apparently entered through a window. He approached the rabbi, held him with both hands and began to shake him vigorously, while verbally insulting him and saying he had come "to get revenge."
Upon hearing the commotion in the rabbi's room, his assistants and followers quickly entered the room and held the down the attacker until police came and arrested him.
The rabbi is reportedly not feeling well after the attack, and his doctor is conducting a series of tests to determine how badly he was hurt.
The Jerusalem municipal elections have been accompanied by a bitter war of words between Israel's leading Lithuanian Ashkenazic hareidi rabbis.
The argument trails back to 2011, when Rabbi Shteinman took over the leadership of the Lithuanian hareidi community following the death of Rabbi Yosef Shalom Elyashiv. Rabbi Shmuel Auerbach and his followers, however, have contended that Rabbi Auerbach is the natural successor to lead the Lithuanian hareidi community in the country.
Rabbi Auerbach presented a separate list, the Bnei Torah (Sons of Torah) party, which ran against the Degel Hatorah list that follows the authority of Rabbi Shteinman.
Rabbi Auerbach also endorsed Nir Barkat as his favored candidate for the position of Jerusalem Mayor, as opposed to Rabbis Shteinman and Kanievsky who told voters to support Moshe Lion.
The largest share of the vote went to Degel Hatorah, which gained eight seats on the council, while Bnei Torah picked up a single mandate. Lion was defeated, however, by Barkat.
Newspaper Maariv/NRG reported Monday that a note had been placed on the car of Rabbi Shmuel Auerbach which read: "Close down your party, or your blood be on your head," using a harsh Biblical phrase of condemnation that means that in the event of any harm befalling a person, he would only have himself to blame.