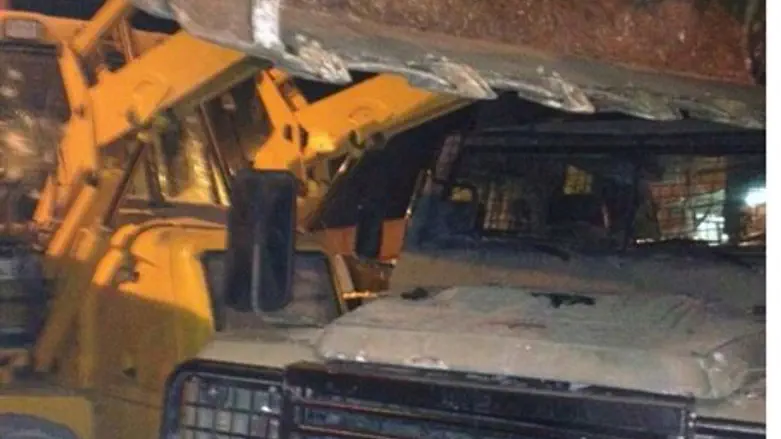 Photo from the attack
IDF Spokesman
A terror attack involving a tractor was thwarted near Jerusalem Thursday evening. The official Palestinian Authority (PA) news agency, Wafa, reported that the terrorist is Younes al-Ubeidi, aged about 30, from Bayt Hanina. PA websites say that the terrorist's brother was responsible for a similar attack in 2009.
The terrorist was driving a tractor, and broke into an IDF base at A-Ram, north of the capital.
He succeeded in breaking through the base's fence. Soldiers fired on him and killed him.
The sequence of events, an initial inquiry has determined, began with the terrorist driving the tractor up to the gate of the base and ramming into the sentry's position. The sentry was thrown back to a distance of several meters. He apparently was not hurt severely. The tractor kept driving into the base and tried to destroy two vehicles. Two soldiers chased after the tractor and opened fire at the driver. Military doctors treated the wounded terrorist at the nearby Kalandiya checkpoint, but could not save his life. 
In the course of 2008 and 2009, four terror attacks were carried out in Jerusalem by Arabs who used the tractors they were driving as weapons.
In the last such attack, in March of 2009, a tractor terrorist wounded two police officers before he was shot and killed.
PA websites say that the man who carried out Thursday's attack is the brother of Mer'i Rdeydah, who carried out the attack in March, 2009, at the intersection between Begin and Golomb streets in Jerusalem. That attack, in which the tractor terrorist turned over a police car before being shot to death, was recorded on closed circuit video (at bottom).
Photos: Uri Davis, 0404 News; IDF Spokesman
credit: דובר צה"ל
credit: דובר צה"ל
credit: דובר צה"ל
credit: אורי דיוויס - חדשות 24
credit: אורי דיוויס - חדשות 24
credit: אורי דיוויס - חדשות 24
credit: אורי דיוויס - חדשות 24
credit: אורי דיוויס - חדשות 24
credit: אורי דיוויס - חדשות 24
credit: אורי דיוויס - חדשות 24
Video of 2009 attack: