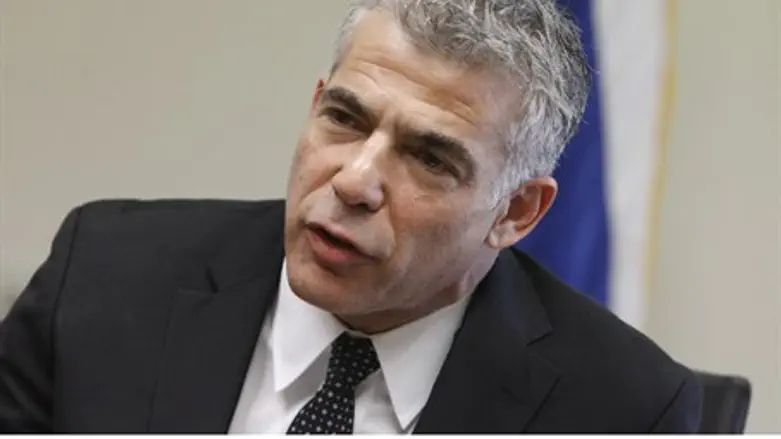 Finance Minister Yair Lapid
Flash 90
Finance Minister Yair Lapid said on Monday that he was dissatisfied with the planned layoffs by Israeli pharmaceutical firm Teva.
The company announced last week that it would be carrying out what is being referred to as "an aggressive streamlining move," laying off 5,000 employees with an estimated 700-800 of them in Israel.
Speaking at the Knesset at the start of its winter session, Lapid said that he had spoken with Teva CEO Jeremy Levin and expressed his dissatisfaction at the move. Lapid added that he had asked Levin to significantly reduce the number of employees who will be dismissed.
He stressed that while it has not yet been decided how many employees will be laid off, Levin had assured him that no significant steps will be taken without involving the Histadrut and the Ministry of Finance.
"I reminded the management of Teva that their relations with Israel are double-sided," said Lapid. "Past governments had given Teva and other companies large tax benefits. Teva is committed to listening to what we have to say on the subject."
Earlier Monday, during her speech at the opening of the Knesset's winter session, Labor leader and opposition head MK Shelly Yechimovich sharply criticized the planned layoffs at Teva.
"You say that you are concerned with the welfare of Israelis, but you have nothing to say about Teva?" she said, complaining that Prime Minister Binyamin Netanyahu had not mentioned the layoffs in his speech.
"Eight hundred families will now find themselves in a new reality of despair and poverty. It is a massive 'terror' attack," declared Yechimovich.
Meanwhile, Levin is planning to meet on Tuesday with the chairman of the Histadrut Labor Federation, Ofer Eini. The two will discuss the proposed layoffs.