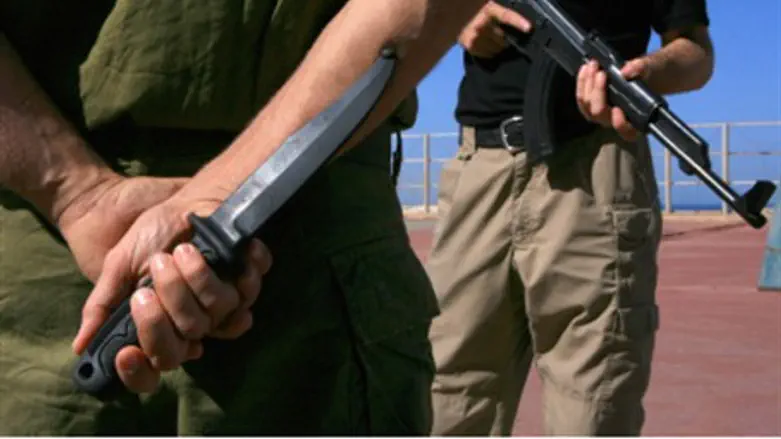 Terrorist with knife -- illustration
Israel news photo: Flash 90
Israel's security apparatus is trying to downplay the Saturday night attack in Psagot in which an Arab man stabbed a young girl, warns Dr. Aryeh Bachrach, a current events analyst and head of the Almagor Bereaved Parents' Forum.
Speaking to Arutz Sheva, Bachrach noted that from the beginning of the week, security personnel have been saying that the stabbing of nine-year-old Noam Glick may occurred in the course of an attempted robbery, rather than as part of a planned terrorist attack.
"Someone is trying to spread the sense that everything is OK, that there is no deterioration in security and that we can continue the negotiations [with the Palestinian Authority]," he said.
However, the act of stabbing itself proves terrorist intent, he argued. "To stand next to a nine-year-old girl and shoot or stab her – only an Arab or a Nazi could do that," he declared.
"It's reminiscent of the murder of Shalhevet Pass, or of what happened with the Fogel family, when a terrorist went back into the home in order to murder one more little girl [3-month-old Hadas Fogel – ed.] who they hadn't managed to kill earlier," Bachrach said.
Arab terrorists are the ones who hurt Arab children, too, he added. "Only an Arab could hide behind little children and shoot at IDF soldiers… No soldier could intentionally hurt children," he argued.
The attacker in Psagot targeted 9-year-old Noam as she played on the balcony of her family home. According to initial reports he shot her in the neck, although later reports said she had been stabbed.
Noam was badly injured in the attack, but made a rapid recovery, and was able to return home earlier this week.