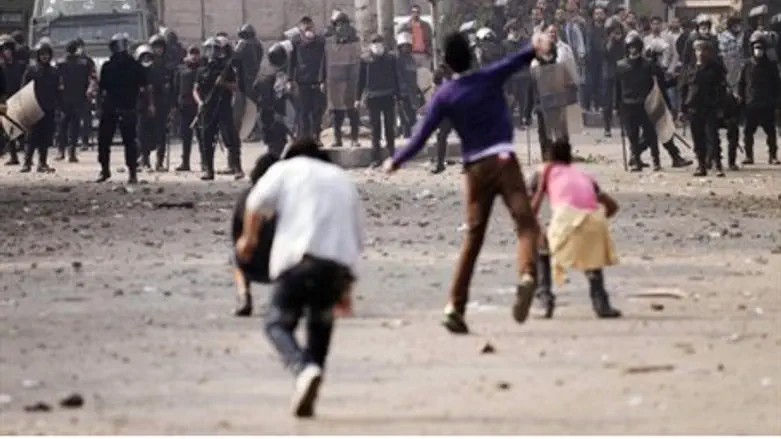 Protest in Tahrir
AFP photo
The Obama administration will cut hundreds of millions of dollars in aid to Egypt to register displeasure over the military's pace of restoring democracy following the ouster of President Mohammed Morsi, reports USA Today.
The U.S. provides $1.5 billion in annual aid to Egypt, but the State Department did not provide a dollar amount of the aid being cut, according to the report.
State Department spokeswoman Jen Psaki was quoted as having said the United States will withhold delivery of certain large-scale military systems, as well as cash assistance to the Egyptian government, until "credible progress" is made toward an inclusive government set up through free and fair elections.
A U.S. official told CNN on Tuesday about the planned cut to aid in Egypt, but the administration subsequently denied the report.
The decision to cut some of the aid to Egypt marks a change in the U.S. attitude to Morsi's ouster in July.
U.S. law forbids sending aid to countries where a democratic government was deposed by a military coup, but until now, the U.S. has never qualified Morsi's ouster as a "coup" and has been cautious about doing so, choosing only to condemn the violence in the country.
Washington did, however, cancel military exercises with Cairo and delayed the delivery of military shipments to Egypt, including F-16s.
Rep. Eliot Engel, the ranking Democrat on the House Foreign Affairs Committee, said any plan to cut military aid to Egypt would be a mistake, and that the U.S. should choose the side of the military in Egypt and stick with it.
The decision to continue military aid to Cairo "should be based on our national security interests and those of our allies in the region," Engel said in a statement quoted by USA Today.
"If the choice is between working with Egypt's military leadership or the Muslim Brotherhood, then I believe we must not jeopardize the decades-long relationship that we have built with the military," he added.