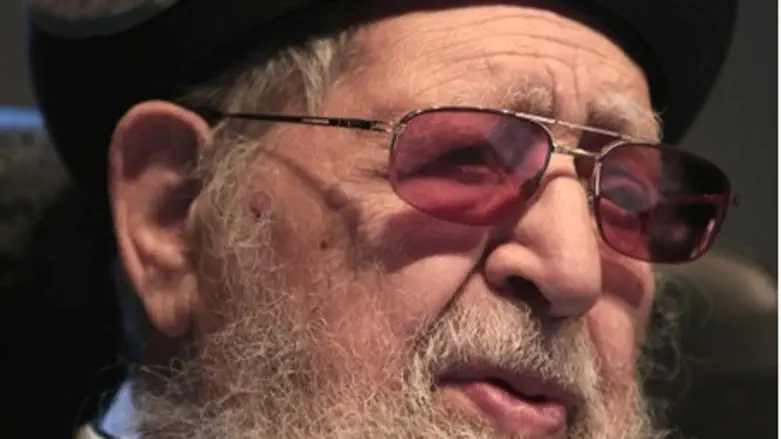 Rabbi Ovadia Yosef
Israel news photo: Flash 90
Cardiologist Professor Dan Gilon, has said Rabbi Haim Ovadia Yosef has died after he suffered a further serious deterioration in his health Monday morning. 
He will buried at Sanhedria, Jerusalem, at 6:00 PM.

Last night (Sunday), saw a deterioration in the condition of the former Chief Rabbi and spiritual head of the Shas party. Sources from Jerusalem's Hadassah Ein Karem Hospital said at the time that his condition is "unstable" and "very serious".
This morning, Spokeswoman for Hadassah Ein Karem Hopsital, Rachel Goldblatt, said Rabbi Haim Ovadia Yosef was "facing a system collapse," adding that a medical team was "fighting for his life."

Rabbi Yosef's family were then called to his hospital bedside as his health continued to decline.
The team of doctors treating 93 year-old Rabbi Yosef, rushed to add treatment to support several of his body's systems overnight. Rabbi Yosef was hospitalized in Hadassah Ein Karem's Intensive Care Department.
Yesterday, three days after being able to breathe independently, he was transferred back to breathing apparatus.

Prior to the deterioration, the cardiologist treating Rabbi Yosef, Professor Dan Gilon explained: "After taking away the breathing apparatus, it will take a few days to determine Rabbi Yosef's strength and ability to continue breathing on his own." He added that in the last few days there have been ups and downs in the rabbi's ability to breathe independently."
Last Thursday, Prof. Gilon said Rabbi Yosef, had been fully conscious and been communicating with the people around him.
The rabbi was placed in an induced coma and artificially respirated on September 24, when his medical condition deteriorated and fluid was discovered in his lungs. Doctors at the time said they were fighting for his life but his condition had later significantly improved.
Iraqi-born Rabbi Ovadia Yosef was an outstanding talmudic scholar who has written prolifically on all matters of Jewish law. His rulings are considered authoritative throughout many communities all over the world.

Tens of thousands of people attended prayers for Rabbi Ovadia's health ten days ago, in a mass prayer session at the Kotel (Western Wall). The name Haim, meaning life, was added to his name as is the Jewish custom when someone is gravely ill. Songs and prayers have been composed for his welfare and an international campaign to sign up to say Psalms for his recovery was launched.
Special prayers were held throughout Israel Monday for the Rabbi's health.