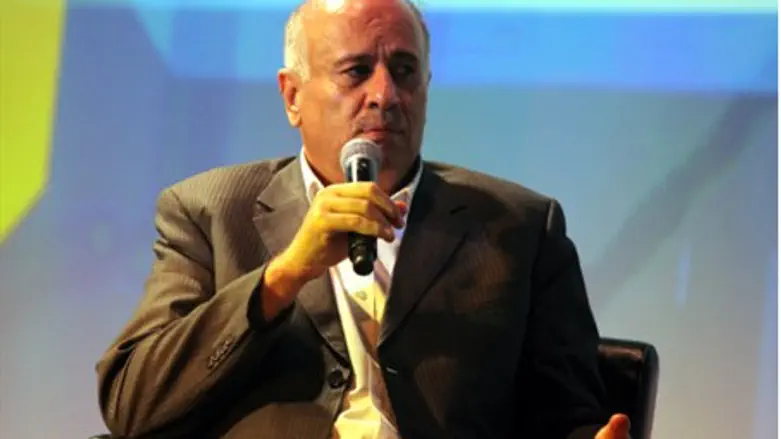 Jibril Rajoub
Flash 90
A top member of Fatah said on Sunday that he condemns the terror attack in the Binyamin region community of Psagot, but placed the blame for the attack on the Israeli government.
Speaking to Kol Yisrael radio, Jibril Rajoub was asked if he condemns the attack, to which he responded, "Listen, listen, I condemn everything that causes damage.  I condemn it and I condemn those responsible for it. And those responsible for it are the Government of Israel and the prime minister of Israel."
Rajoub went on to say that the Israeli government was responsible for the attack, in which nine-year-old girl Noam Glick was wounded, because it "incites and provokes by building settlements."
He said that no decent person would agree with hurting a child, even if the child is in the wrong place like the "settlers" are, as he put it.
"I myself have a 12-year-old child and I know how much it hurts, but I hope that you will eventually think about how to move the settlers to areas beyond the Green Line," he said.
Rajoub is known for his incitement against Israel, despite being a member of the Fatah party, which is headed by Palestinian Authority Chairman Mahmoud Abbas and has been touted as a "peace partner".
In the past Rajoub denounced Jews as "Satans" before an audience. In a separate incident, he called Israeli Prime Minister Binyamin Netanyahu a "dog."
In May, he praised the use of violence against Israel, asserting that if the PA had a nuclear weapon, it would not hesitate to use it against the Jewish state.
A month later, Rajoub said during an interview on an Arab sports television channel that all of Israel is "occupied Palestine".
On Sunday, an official Facebook page run by Fatah praised the terrorist who shot Noam Glick in the neck at short range, and predicted he would strike again.
The terrorist managed to escape after shooting Glick and, despite a massive manhunt for him, has yet to be caught.