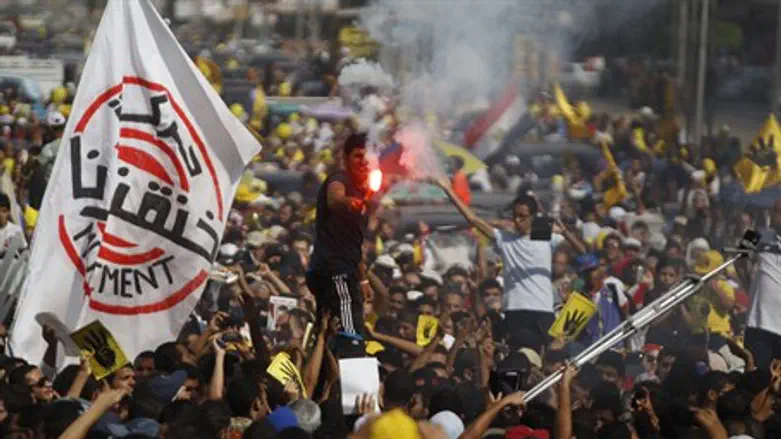 Members of the Muslim Brotherhood shout sloga
Reuters
At least five people were killed in Cairo on Friday, as thousands of supporters of ousted Egyptian President Mohammed Morsi took to the streets nationwide, clashing with security forces.
Supporters of Morsi's Muslim Brotherhood, who have been protesting to re-install the ousted , clashed with police on the road leading to the pyramids in the suburb of Giza, reported Al Arabiya.
Protesters marched toward the Defense Ministry and presidential palace in Cairo, in defiance of the crackdown on the Brotherhood.
Meanwhile, thousands of the movement's loyalists marched through a Cairo suburb toward the site of a former protest camp that was cleared by security forces in August.
Soldiers and policemen boosted their presence around Rabaa al-Adaweya mosque, the larger of the Brotherhood's two former Cairo sit-ins, according to the state news agency.
A Reuters witness said an Egyptian army vehicle fired live rounds in the direction of Brotherhood supporters who had been pushed away from Cairo's Tahrir Square by security forces.
Mahmoud Abde Erradi, a journalist from the local Youm7 newspaper, told Al Arabiya from Cairo that the clashes erupted when Brotherhood members attempted to storm the square.
He denied security forces have opened fire on protesters, saying that tear gas was used to disperse protesters who attacked public properties.
Earlier this week, anti-military protesters demonstrated in Cairo's Tahrir Square for the first time since Morsi was removed from office in July following mass protests against his leadership.
Protests against the military, led by supporters of the Muslim Brotherhood, have been held in cities across Egypt since the military seized power on July 3.
Hundreds of people have been killed and more than 2,000 arrested in a police crackdown on Morsi's Muslim Brotherhood movement since August 14, when police forcibly dispersed two protest camps that were set up in Cairo.
Since August, Egypt's authorities have rounded up dozens of senior leaders of Morsi's Muslim Brotherhood, including the movement's Supreme Guide, leaving the group unable to rally huge crowds to protest for Morsi's reinstatement.
(Arutz Sheva's North American Desk is keeping you updated until the start of Shabbat in New York. The time posted automatically on all Arutz Sheva articles, however, is Israeli time.)