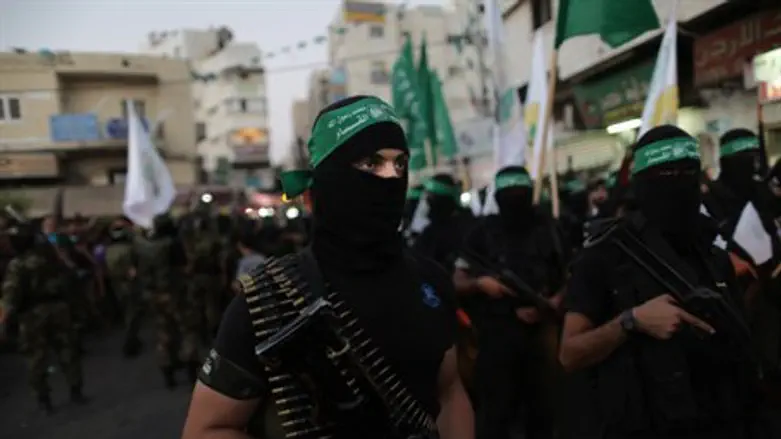 Hamas terrorists in Gaza
Flash 90
Abu Ubaida, the spokesman for Hamas's military wing the Al-Qassam Brigades, said on Thursday that the terror organization is trying to avoid going to battle with Israel in order to avoid the consequences for Gaza residents.
At the same time, he said in a recorded message that the 'Hamas resistance' to Israel was in a better condition than ever before in Gaza, and that the group was ready for a confrontation if one is needed.
He added that the Al-Qassam Brigades were working in full cooperation with other Palestinian Authority Arab organizations, and that they were being guided by the principle of the "struggle", since one can change history only by using force.
Abu Ubaida said that the eyes of the people were on the Al-Aqsa mosque in Jerusalem and on various spots where prisoners from the Palestinian Authority are held by Israel. He expressed the confidence of Hamas forces to deal with the Egyptian army's destruction of the smuggling tunnels in the Rafiah area.
The Egyptian army, in addition to cracking down on terrorists in the restive Sinai Peninsula, has also been applying pressure on Hamas, which is blamed by Egypt for being involved in teaching Islamists in Egypt how to carry out attacks. Hamas has denied the allegations.
Abu Ubaida's message, coupled with a show of force, were not only intended for Israel but for rebels who are trying to bring the Hamas government down.