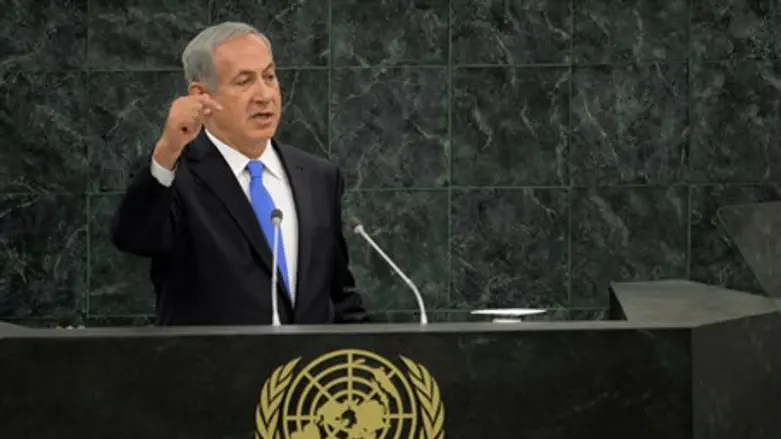 PM Netanyahu at UN Assembly
Flash 90
Israel wants to make peace with the Palestinian Authority (PA) and the Arab world, Prime Minister Binyamin Netanyahu told the United Nations during his address to the UN General Assembly on Tuesday.
"Israel continues to seek an historic compromise with our Palestinian neighbors… We want peace based on security and mutual recognition," he declared.
Netanyahu laid out what he said are Israel's needs: that any future Palestinian state be demilitarized, and that the PA recognize Israel as a Jewish state.
Israelis have been willing to make "painful concessions" for peace, but Palestinian Authority leaders have not, he accused.  PA leaders "must finally recognize the Jewish state, and Israel's security needs must be met," he reiterated.
PA Chairman Mahmoud Abbas has repeatedly refused to recognize Israel as a Jewish state. He argues that recognizing Israel as Jewish would mean giving up the Arab demand that Israel allow millions of descendants of Arabs who fled during the War of Independence to "return" – a demand that, if met, could make Israel a majority-Arab state.
At the same time, Abbas insists that no Israeli citizens currently living in Judea and Samaria would be allowed to remain in their homes as citizens of a PA state. "In a final resolution, we would not see the presence of a single Israeli – civilian or soldier – on our lands," he told reporters during a recent visit to Cairo.
After laying out Israel's needs and hopes for peace, Netanyahu shared the story behind his family's decision to come to Israel.
His grandfather was once viciously beaten in an unprovoked attack by anti-Semites, he related. Before passing out, he said, his grandfather was disturbed by the "disgrace" that "the descendents of the Maccabis" should be so easily victimized - and decided that if he were to recover, he would bring his family to the land of Israel to live as free and proud Jews in their homeland.
The Jewish people's return to the land of Israel fulfilled Biblical prophecy, and even today, prophecies are being fulfilled, Netanyahu continued. To illustrate his point, he quoted several Biblical verses which speak of the return of the Jewish exiles to Israel and concluded: "Ladies and gentlemen, the people of Israel have come home, never to be uprooted again."