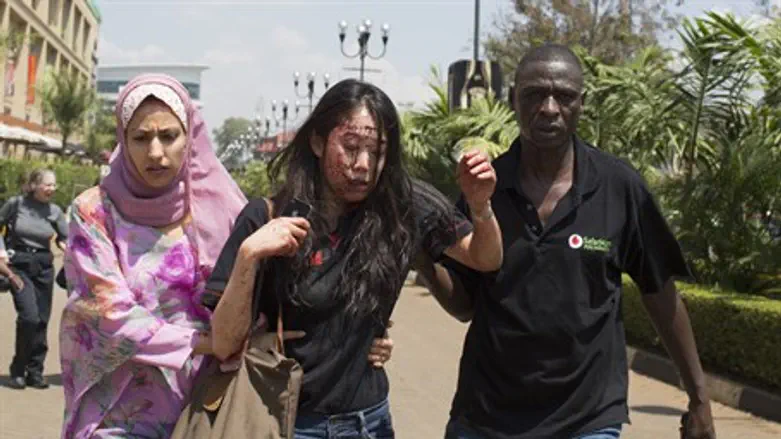 Woman evacuated from site of Nairobi attack
Reuters
Kenyan President Uhuru Kenyatta says the bloody siege at the Westgate shopping mall in the country's capital is finally over.
Kenyatta said in a televised address that five terrorists from Al Shabaab, an Al-Qaeda-linked Somalian group were shot dead by troops with a further 11 suspects taken in custody.
Gunmen - and, it is emerging, at least one female terrorist - began the bloody assault by hurling grenades and firing indiscriminately with AK 47s as the building was packed with both locals and tourists enjoying the end of the weekend.

Earlier Tuesday the day Kenyan authorities said the siege on the mall was very nearly over as gun battles erupted throughout the afternoon.  

The Kenyan president added: "Kenya has shamed and defeated our attackers", saying that the "losses are immense", as he confirmed the details of the gruesome assault on the mall in which 62 civilians and six soldiers has died.
He also called for three days of national mourning commencing Wednesday.
President Kenyatta also said it was thought that that many bodies - including those of terrorists – remained under a building in the mall which collapsed following a fire on Monday.
"I promise that we shall have a full accountability for the mindless destruction, deaths, pain, loss and suffering we have all undergone as a national family." Kenyatta told his countrymen,
"These cowards will meet justice, as will their accomplices and patrons, wherever they are," he said.
Report have been circulating that a team of Israeli military advisers were flown in as early as Sunday morning to help Kenyan security forces root out Islamist terrorists and rescue the remaining hostages.

The BBC reported that at least 18 foreigners were among the dead, including six Britons, as well as citizens from France, Canada, the Netherlands, Australia, Peru, India, Ghana, South Africa and China.