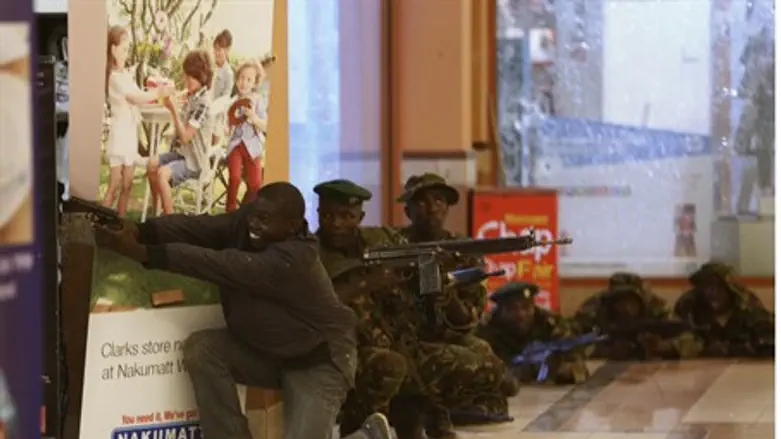 Kenyan soldiers fight terrorists in Westgate
Reuters
As Kenyan military forces moved to liberate Nairobi's Westgate Mall from the hands of Islamist terrorists, a representative of Al-Shabaab, the Somali terror group behind the attack, told Arab satellite network Al Jazeera that the attack was overdue, and that the mall was chosen for the attack because "it is a place where there are Jewish and American shops."
The attack, which began Saturday, was still underway Tuesday, with the terrorists holed up in the building, holding a number of hostages. At least 69 people have been killed so far, as Kenyan soldiers try to remove the Islamists who are occupying the building.
The Islamist group attacked the mall – a place where innocent civilians shop – because "it is a place where tourists from across the world come to shop, where diplomats gather. It is a place where Kenya's decision-makers go to relax and enjoy themselves." As the group demands the imposition of Islamic law in Kenya and the removal of all Western influences – and tourists – Al Shabaab felt justified in attacking the site, the terrorist spokesperson said.
In addition, he said, the attack was justified revenge against the Kenyan government for its actions against other Islamists.
"On civilian deaths, Kenya should first be asked why they bombed innocent Somali civilians in refugee camps, why they bombed innocent people in Gedo and Jubba regions. They should be asked that first before us," he said, adding that the group had freed all Muslims before taking over the mall.
The Westgate mall is owned by an Israeli group, as are several of the stores; the attackers first entered the mall through an Israeli-owned coffee shop.
"We have been late in attacking Nairobi. We did not attack before because they were expecting us to attack. Our aim is to attack our enemy when they least expect us to attack. This time they were not expecting us to attack. We choose when to attack, and best time to attack," the spokesperson said.