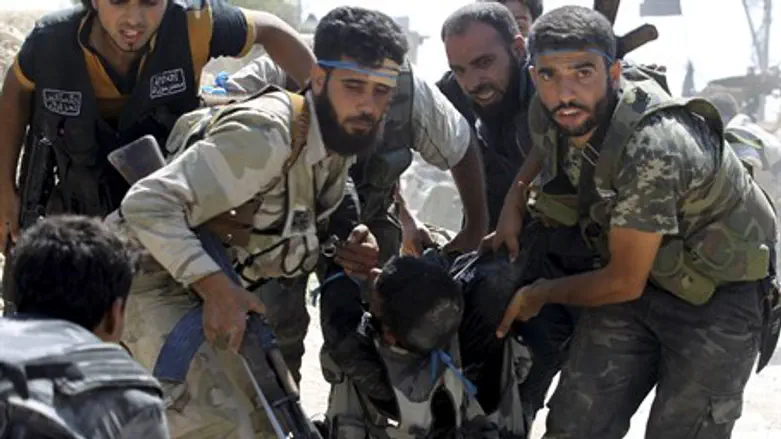 Syrian rebels carry wounded fighter in Aleppo
Reuters
Infighting among Syrian rebel groups continued to rage Monday amid reports that a senior Al Qaeda commander had been killed in clashes with a rival rebel brigade.
The commander - said to be of Libyan nationality - was killed along with a dozen other fighters from the Islamic State of Iraq and al-Sham (ISIS), according to the Syrian Observatory for Human Rights. Six local rebel fighters were also killed in the clashes, which occurred in the northern city of Hazano, to the west of Syria's divided second city of Aleppo and close to the country's border with Turkey.
Tensions between Al Qaeda-linked rebel groups such as ISIS and the Nusra Front (or Jabhat al-Nusra) and other rebel groups have boiled over on several occasions, highlighting the various ideological fault lines which have fragmented the rebel movement against the Syrian regime of Bashar al-Assad.
Internecine gun battles, assassinations, kidnappings and executions are a regular occurence, particularly in the north and east of the country. 
Al Qaeda-linked fighters, as well as other Islamist battalions, have also been engaged in a bloody battle with Kurdish militias, who seek to establish an autonomous region in northern Syria, and are opposed to both the Assad regime and the Arab rebel movement.
But turf wars and personal vendettas are also pitting rebel factions against one another - even those who are ideologically indistinguishable.
In one such case, on Saturday ISIS fighters attacked a base manned by Jabhat al-Nusra in the eastern province of Hasaka, killing two fighters Nusra fighters.
According to the Syrian Observatory for Human Rights, the base, which housed weapons and oil stores, was poorly defended at the time because most of the Nusra contingent were battling local Kurdish fighters.
ISIS is the result of a merger between Al Qaeda in Iraq and Al Qaeda factions in neighboring Syria. The Nusra Front initially pledged allegiance to Al-Qaeda chief Ayman Al-Zawahiri, but its leader rejected an ISIS bid for a direct merger, and some tension has existed between the rival factions since then, although it has rarely erupted into violence along the lines of Saturday's events.