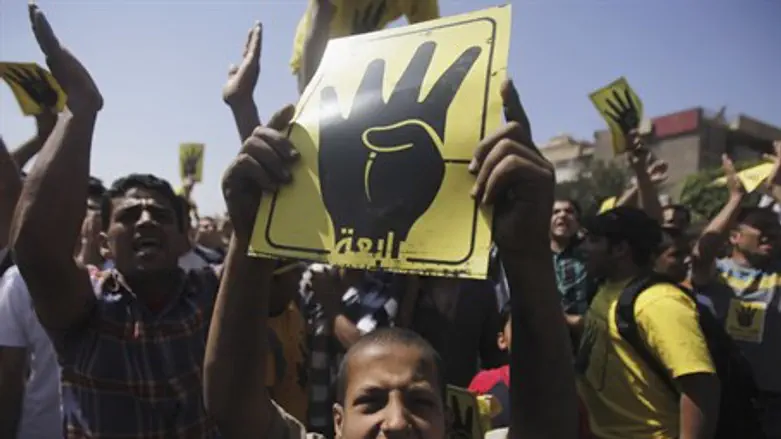 Muslim Brotherhood supporters in Cairo, Septe
Reuters
An Egyptian court has outlawed the Muslim Brotherhood, in a Monday ruling banning "all activities" by the group in Egypt and its assets.
The court had been asked to review the Brotherhood's application for non-governmental status back in March, and returned its verdict this afternoon. 
The move is the latest in a string of blows leveled by interim Egyptian authorities against the Islamist movement which once ruled northern Africa's most populous nation.
The Brotherhood's successful presidential candidate, Mohammed Morsi, was ousted from power by the Egyptian army in July following rising protests and demands he step down, as his administration sought to rewrite the constitution in a way that would give him absolute power - something many Egyptians saw as an attempt to undo the revolution which overthrew long-time dictator Hosni Mubarak in 2011, and on the back of which Morsi was voted into power.
Morsi's ouster saw weeks of violent clashes between his supporters on the one hand, and security forces and opponents of the Muslim Brotherhood on the other, which left scores dead. Armed Islamist groups also stepped up attacks against Egyptian military and government positions, and targeted members of Egypt's Coptic Christian community as "punishment" for their support of the interim government. In response, the Egyptian army launched an unprecedented military operation in the Sinai Desert, as well as more recently in central Egyptian towns seized by armed Islamists.
On August 14th, the army moved in on two large protest encampments in Cairo, triggering violence which killed more than 1,000 people. That marked the start of a deliberate crackdown on the Muslim Brotherhood as an institution; much of its leadership has been arrested and others killed or forced into hiding.
But the decision to effectively outlaw the group - and inevitably force its activities underground - sees the Muslim Brotherhood come full circle, having previously emerged from a decades-long ban to take power in June 2012.