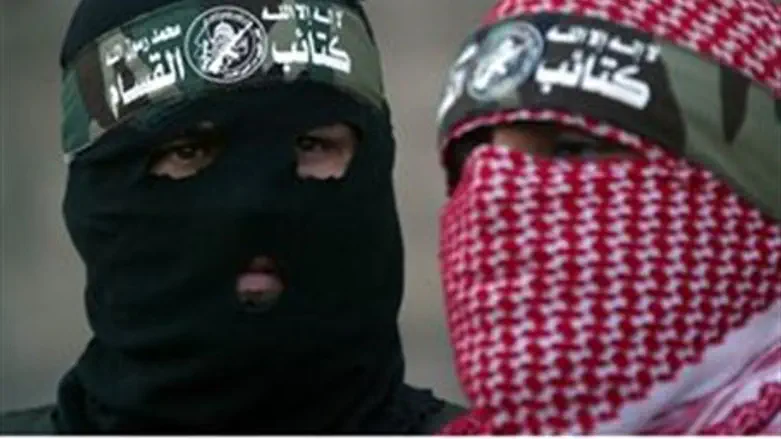 Terrorists (illustration)
Flash 90
Fatah's military wing, the Al Aqsa Brigades, on Sunday took responsibility for the murder of IDF soldier Tomer Hazan Friday. According to Israeli officials, Nadal Amar, the terrorist who killed Hazan, was not affiliated with any terror group.
Hazan was abducted Friday and murdered in Samaria by Amar, with the motive said by IDF officials to be a plan by the terrorist to trade Hazan's body for the freedom of his brother, a Fatah terrorist who has been in jail in Israel for the last ten years. The soldier went missing Friday, and after a Shabak investigation, soldiers descended on the home of Nadal in the village of Bayt Amin, near Kakilya.
Hazan had worked together with Amar at a restaurant in Bat Yam. On Friday, Hazan met Nadal in the Jewish town of Shaare Tikvah in central Samaria, from where both proceeded to Nadal's village, where Israeli officials said that the IDF soldier was killed immediately. Nadal dumped Hazan's body in a pit near the village. He along with six others were arrested Saturday morning, after the Shabak gathered information on the attack.
In a statement, the Al Aqsa Brigades said that it had sponsored the murder of Hazan. "This is to inform the world that the voice of the martyrs is the strongest voice," the group said. "The kidnapping was carried out in a complicated military action by our forces. We succeeded, despite the many roadblocks and other methods to stop us the army put up."
The group also warned against harming Amar. "If one drop of his blood is spilled, many more plagues will fall upon you, O Zionists."
Hundreds of people attended the funeral of murdered IDF soldier Tomer Hazan hy"d Sunday afternoon. He was laid to rest in the military cemetery in Holon. Economics Minister Naftali Bennett slammed the Palestinian Authority and its head, Mahmoud Abbas, whom he said did not even condemn the murder. "We are 20 years after the Oslo Accords and our partner has not yet changed. No one can make peace with terrorists who murder a soldier and throw him into a pit. I have not yet heard one condemnation of these acts by Abbas. If the situation had been reversed we would surely have condemned such an act harshly," he added.