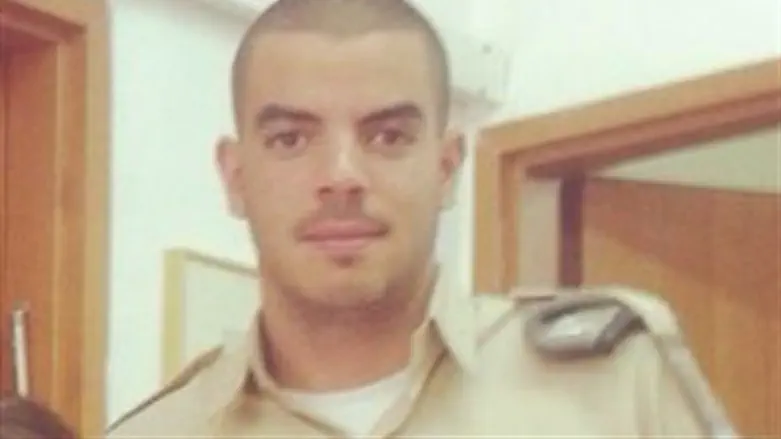 Tomer Hazan
Courtesy of the family
Hundreds of people attended the funeral of murdered IDF soldier Tomer Hazan H"yd Sunday aftenoon. He was laid to rest in the military cemetery in Holon.
Hazan was abducted Friday and murdered in Samaria (Shomron) by an Arab terrorist, with the motive said by IDF officials to be a plan by the terrorist, Nadal Amar, to trade Hazan's body for the freedom of his brother, a Fatah terrorist who has been in jail in Israel for the last ten years. The soldier went missing Friday, and after a Shabak (General Security Service) investigation, soldiers descended on the home of Nadal in the village of Bayt Amin, near Kakilya.
Hazan had worked together with Amar at a restaurant in Bat Yam. On Friday, Hazan met Nadal in the Jewish town of Shaare Tikvah in central Samaria, from where both proceeded to Nadal's village, where Israeli officials said that the IDF soldier was killed immediately. Nadal dumped Hazan's body in a pit near the village. He along with six others were arrested Saturday morning, after the Shabak gathered information on the attack. Hazan's body was retrieved Saturday afternoon.
Neighbors of Hazan in his hometown of Bat Yam eulogized the soldier, and spoke of his warm relationship with everyone he knew. "We cannot accept this," one speaker said. "Tomer was a great friend and a unique human being. He was an amazing person who disappeared in a day."
Economics Minister Naftali Bennett slammed the Palestinian Authority and its head, Mahmoud Abbas, whom he said did not even condemn the murder.
"We are 20 years after the Oslo Accords and our partner has not yet changed. No one can make peace with terrorists who murder a soldier and throw him into a pit. I have not yet heard one condemnation of these acts by Abbas. If the situation had been reversed we would surely have condemned such an act harshly," he added.
Speaking in Gush Etzion Sunday, Defense Minister Moshe Ya'alon said that the murder was "a difficult event that occurred despite great efforts by the defense establishment to prevent them. The relative quiet we see today is no guarantee for the future. We must remain prepared for any scenario that may develop."