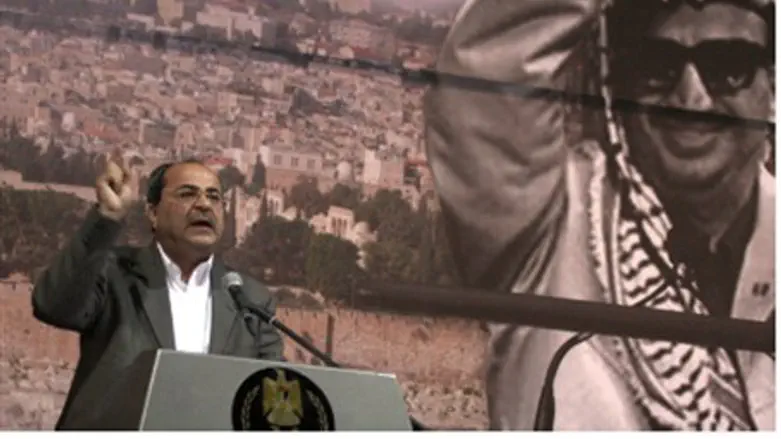 MK Ahmed Tibi commemorates Arafat
Israel news photo: Flash 90
Jews have no right to visit the Temple Mount, and should be prevented from "contaminating" the holy site, a Member of Knesset has argued.
MK Ahmed Tibi (Ra'am Ta'al) spoke against allowing Jews to visit the Temple Mount, which is also the site of the Al-Aqsa mosque. The area is the holiest place on earth according to the Jewish religion.
Tibi was particularly outraged by the possibility that police may restrict Muslim worshipers in order to allow Jews to visit the holy site during the holiday of Sukkot.
Jews are still not allowed to pray at the holy site.
The decision to let Jews visit during Sukkot is part of a gradual plan with the ultimate goal of sharing the holy site equally between Muslims and Jews, he warned, adding that Muslims must not accept such an arrangeement.
"The Al-Aqsa mosque is a place of prayer for Muslims alone. Period! Not for others," Tibi declared.
"The police think defending the Al-Aqsa mosque is 'disturbing the peace.' We think it is sacrifice and defending the most holy places to us, which are under attack from the right and from Jewish extremists who want to take away our rights," he continued.
"We repeat: the occupation of Al-Aqsa by the Crusaders was long, but it ended, the same was true of the British Mandate, and the same will be true of the Israeli occupation of Al-Quds [Jerusalem] and Al-Aqsa," he said.
In a televised interview with Arab media, Tibi can be heard saying he is "confident" that the Israeli "occupation" of Jerusalem will end, "and our voice will rise up here at the Al-Aqsa mosque, and we won't let these people [Jews] contaminate it."
In a separate interview, Tibi argued that attempts by MK Miri Regev (Likud) to gradually change the status quo on the Temple Mount to give Jewish worshipers more rights constitutes a "declaration of war."
Despite the Temple Mount's status as the holiest place in Judaism, the Waqf Islamic trust which administers the site insists on maintaining a strict ban on Jews from praying or conducting any forms of religious rituals there. Much to the outrage of Jewish groups, the Israeli police has strictly enforced the ban, in spite of numerous court orders insisting that Jewish rights on the site be upheld in the name of freedom of worship.
Islamist groups and the Palestinian Authority regularly issue claims denying the Jewish connection to the Mount - as well as to Jerusalem as a whole -whilst simultaneously destroying ancient Jewish artifacts on the Temple Mount, in what many Israeli archaeologists have slammed as "archaeological vandalism"