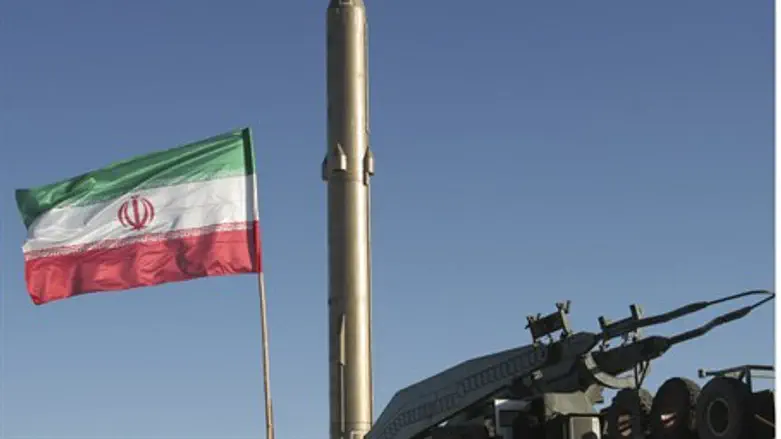 (Illustration) Iranian ballistic missile on s
Reuters
In a show of force which contrasts with the relatively consilliatory statements by Iran's new president, the Iranian military has paraded its arsenal of ballistic missiles capable of hitting Israeli and other western targets, at a state parade on Sunday.
Iran paraded 30 missiles with a nominal range of 2,000 kilometres (1,250 miles) - the first time it had displayed so many with the theoretical capacity to hit Israeli targets.
The missiles on show included 12 Sejil and 18 Ghadr missiles, at the annual parade marking the 25th anniversary of the outbreak of the 1980-88 Iran-Iraq war.
The stated range of both missiles would put not only Israel but also US bases in the Gulf within reach.
But in his speech at the parade, President Hassan Rouhani insisted the weaponry on show was for defensive purposes only.    
"In the past 200 years, Iran has never attacked another country," he said.  
"Today too, the armed forces of the Islamic Republic and its leadership will never launch any aggressive action in the region. But they will always resist aggressors determinedly until victory." 
The Sejil was first tested in November 2008 and the Ghadr in September of the following year.
Both are two-stage missiles that use solid fuel that allows them to be moved around and launched rapidly.
The parade came as tensions over Iran's suspected nuclear weapons program continue to simmer, and as Israeli leaders continue to view with suspicion the newly-elected Iranian president's overtures to western powers.
Rouhani's term in office has so far been tempered by mixed signals, with a Rosh Hashanah tweet and repeated calls for a diplomatic rapprochement with the west contrasted by resolute statements about country's ongoing nuclear development program.
Last week, Israeli Prime Minister Binyamin Netanyahu cautioned against believing what he termed as Rouhani's "spin," urging world leaders to remain focused on the actions of the regime, and claiming that Rouhani's more moderate-sounding remarks were simply a way of disarming critics as his government forged ahead with a nuclear weapons program.
"The Iranians are creating media spin in order to keep the centrifuges spinning," a statement from Netanyahu's bureau said.
"The test is not in Rouhani's words, but in the deeds of the Iranian regime, which continues to vigorously pursue its nuclear program at the same time that Rouhani grants interviews."
Netanyahu has previously branded the Iranian President a "wolf in sheep's clothing," based on his past record as Iran's chief nuclear negotiator, during which time he famously bragged about duping European negotiators.