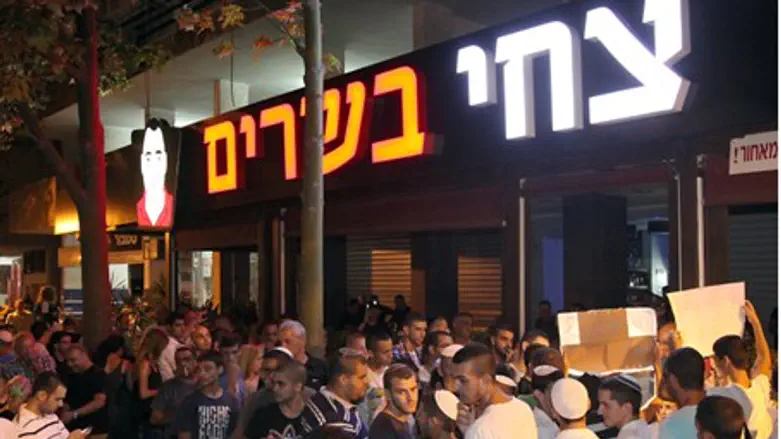 Protest outside Tzachi Basarim restaurant
Israel news photo: Flash 90
The girlfriend of IDF soldier Tomer Hazan, who was kidnapped and murdered Friday by Palestinian Authority Arab coworker Nadal Amar, has revealed that the killer tried to kidnap other youth, as well.
The young woman worked with both Tomer and Amar at Tzachi Basarim restaurant in Bat Yam.
"Nidal apparently was planning this for a long time," she told Galei Tzahal (IDF Radio). "He didn't target Tomer right away, he tried to take other people at first. But apparently Tomer was talked into it, because he was an innocent guy."
She added, "I think that as soon as Tomer got in the cab and realized they were going to Kalkilya and there was no business deal or anything, he must have tried to run."
Amar brought Hazan to the PA village of Bayt Amin near Kalkilya, apparently under the pretext of wanting to do business with him.
He had planned to use Tomer's body as a bargaining chip to negotiate for the release of terrorist prisoners, including his brother. The killing has led to renewed warnings about Israel's terrorist release policies.
Tomer Hazan's funeral will be held at 4 p.m. Sunday in the military cemetery in Holon.
On Saturday night a small but angry protest spontaneously erupted outside the restaurant in Bat Yam where Amar was employed illegally by the Israeli owners.
Protesters shouted anti-Arab slogans and called for a boycott of the establishment over its apparently illegal use of PA Arab workers, and voiced anger over the lack of police enforcement.
"Tzachi Tzamerat, the blood is on your hands," one makeshift sign read. Another protester held up a sign saying, "You saved money – a soldier paid with his life."
Public responses to the protest were mixed. Some argued that the restaurant owner is "a good man" and claimed he had a permit to employ Amar; others agreed that the owner had a responsibility to check his PA employee's family background to rule out ties to terrorism.