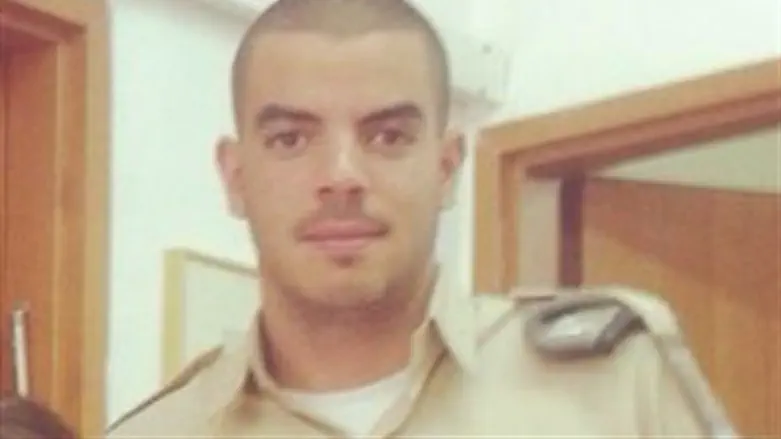 Tomer Hazan
Courtesy of the family
Prime Minister Binyamin Netanyahu has sent his condolences to the Hazan family of Bat Yam, whose son Tomer Hazan, 20, an IDF soldier, was kidnapped and murdered by a terrorist on Friday.
The slaying was part of the "ceaseless" terror war that Israel faces, he said. Israel will continue to fight terrorists with all the means at its disposal, he wrote.
Deputy Defense Minister Danny Danon blamed the Palestinian Authority for the slaying. "This cruel murder is the result of the ongoing incitement by the Palestinian leadership," he accused.
"Abu Mazen [Mahmoud Abbas] lends support to these horrific acts when, after the festive declarations in the ongoing negotiations, he continues to pay grants to murderers in prison. Twenty years after Oslo, the Palestinians have still not abandoned the path of terrorism," he added.
Danon recently called to annul the Oslo Accords in an op-ed for the New York Times.
MK Moti Yogev (Bayit Yehudi/Jewish Home), a colonel in the IDF reserves and a former commander of an elite unit, warned that Israel faces tough questions in wake of the attack.
"The soldier's murder requires us all to ask questions and to learn from the answers," he said. "The most obvious question is: did the cowardly murderer Nadal Amar understand that we make deals to free terrorists, and he is likely to be freed from prison in some release deal in a few years?"
"Is this the morality by which the state and its justice system act?" he continued. "If not, we must immediately stop the process of releasing terrorist murderers, a process of surrender to immoral terrorism and American pressure, a process that does not exist today in any country in the enlightened world."
Yogev's warning was echoed by an editorial in the Hebrew-language Maariv/nrg. Noting that the terrorist who murdered Hazan has already admitted to planning to use his body as a bargaining chip, the article warned, "The motive for the next kidnapping is already clear… From the Palestinian public's point of view, the best way to free 'heavy' terrorists is through kidnapping Israeli soldiers."
Israel has been willing to trade terrorist prisoners for Israeli bodies in the past, notably in the cases of kidnapped IDF soldiers Eldad Regev, Ehud Goldwasser and Omar Sawad.
Among those Israel traded for the bodies of Goldwasser and Regev was unrepentant terrorist Samir Kuntar, who infamously murdered a young Jewish girl by smashing her skull with a rifle as part of a string of terrorist murders.
In 2011, Israel freed more than 1,000 terrorist prisoners in return for captured IDF soldier Gilad Shalit. At the time, in spite of a groundswell of popular Israeli sympathy for the plight of the captive soldier, many Israelis - including prominent public figures - expressed extreme reservation for a deal which they saw as increasing the motivation among terrorist groups to capture IDF soldiers.