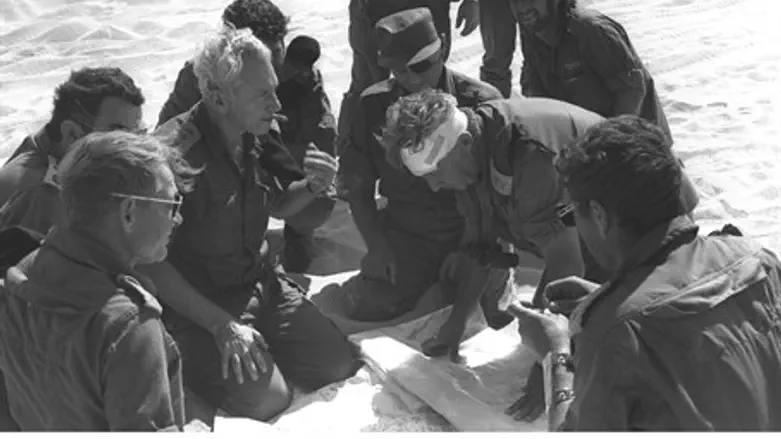 Yom Kippur War
Israel news photo: Flash 90
The State of Israel held an official memorial Sunday for those who fell in the Yom Kippur War, 40 years ago. The ceremony took place at the Mount Herzl Military Cemetery.
Among those who took part were Prime Minister Binyamin Netanyahu, President Shimon Peres, Defense Minister Moshe Yaalon, IDF Chief of Staff Benny Gantz, Knesset Speaker Yuli Edelstein, and the Chief Rabbis of Israel, Rabbi Yosef Yitzchak and Rabbi David Lau.
Peres said the war "is what brought peace with the largest Arab country – Egypt. And in its wake, laid the foundation for peace with the Palestinians, and after that – with Jordan."
"Our neighbors learned that war is bound to end in disappointment," he continued. "Peace is the real victory."
Netanyahu said, "We bow our heads, and, in gratitude, recall the bravery of those who fell in the Yom Kippur war. Thousands of the best of our sons and daughters were killed in that war. Thousands more were wounded, and some bear the scars to this day."
"National leadership must be alert, and must not be led by delusions or false hope," he continued. "It must be constantly prepared."
Yaalon spoke as well. "The Middle East has experienced a historic shake-up in recent years; we still cannot see how it will end, or predict its results. Changes happen quickly, and we must be aware."
He added, "We hope for the implementation of the intent to destroy Syria's chemical weapons. The test will be in the implementation… that is, in the results. The world must show determination regarding the extremist regime in Tehran and its plans to develop nuclear weapons, which threatens more than just the Middle East."
The Yom Kippur War began in October 1973, on the Yom Kippur holiday, with Egypt's invasion of the Sinai Peninsula. As Egypt attacked from the south, Syria launched an assault on the Golan.
After suffering defeats in the first days of the war, Israel rallied and launched a successful counter-attack. A ceasefire deal was reached just over two weeks later.