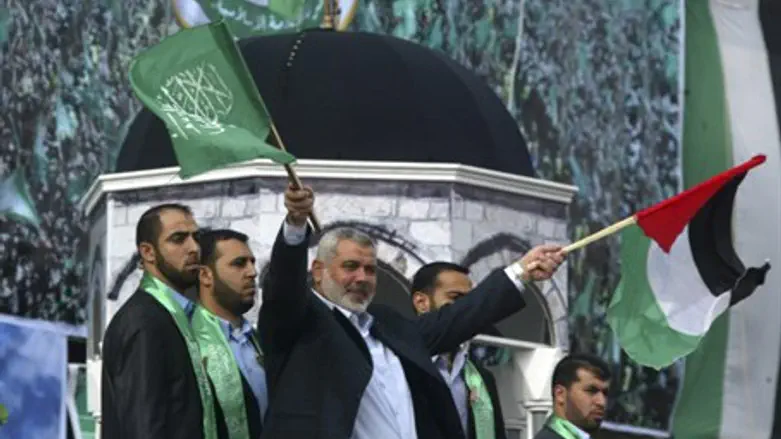 Hamas leader Ismail Haniyeh
Flash 90
Egypt's crackdown on terrorism in the Sinai Peninsula, including weapons smuggling to Gaza, has put Hamas in a tough position. The Islamist movement has found itself cut off from both its weapons supply and much of its source of income.
A recent terrorist attack on the Egyptian intelligence headquarters in Sinai led the Egyptian army to shut down the Rafiah terminal in southern Gaza for the past several days. The terminal is the only one that has been open to normal travel in recent years; Israel's crossings with Gaza are open to travel only in cases of humanitarian need.
Egypt's counter-terror tactics near Gaza have mirrored Israel's: the Egyptian army has bombed smuggling tunnels between Egypt and Gaza, has created a buffer zone, and has battled terrorist "fishermen" who try to leave Gaza waters.
The determined attempt to destroy smuggling tunnels has shut down an estimated 80% of the tunnels trade, and, according to Arab media outlets, has killed several Gaza residents who were caught in the tunnels during destruction operations.
Hamas' response seems to show a sensitivity to its precarious position: instead of denouncing Egypt as it has denounced Israel for similar counter-terror activities, or going on the attack, as it has previously done, Hamas has reportedly thanked the Egyptian army. According to Maariv/nrg, Hamas spokesman Sami Abu Zuhari said, "Smuggling activity has almost completely ceased thanks to the welcome operation by the Egyptian army."
However, Hamas officials who spoke to the LA Times warned that the operation had destroyed much of Gaza's source of consumer goods. While many goods enter Gaza via Israel, the tunnels to Egypt supply cheap Egyptian fuel and other goods crucial to Gaza's economy, said Gaza's Ministry of National Economy director Hatem Eweda.
Military sources in both Israel and Egypt confirm that Hamas uses the tunnels to bring in the weapons it uses to arm its security forces, build its rocket arsenal, and keep up its advantage over local rivals, including both Islamic sects and anti-Islamist protest groups.
In addition, Hamas taxes goods brought in via smuggling tunnel, and the heavy blow to tunnel trade is expected to mean a sharp drop in the group's revenue.
Egypt's new leadership replaced the Muslim Brotherhood, a Hamas ally. The current anti-Islamist crackdown in Egypt may be affecting Hamas as well; however, the movement appears reluctant to voice criticism. A senior Hamas leader recently told Egyptian media that protests in Gaza on behalf of ousted Egyptian President Mohammed Morsi had been "mistaken."
Morsi is accused of colluding with Hamas in staging prison breaks in which Egyptian guards were killed. Both Morsi and Hamas have denied the allegations.
A poll conducted by the Palestinian Authority's Maan news service found that over 73% of Gaza Arabs believe Egypt's crackdown on the Muslim Brotherhood will have a negative impact on Hamas.