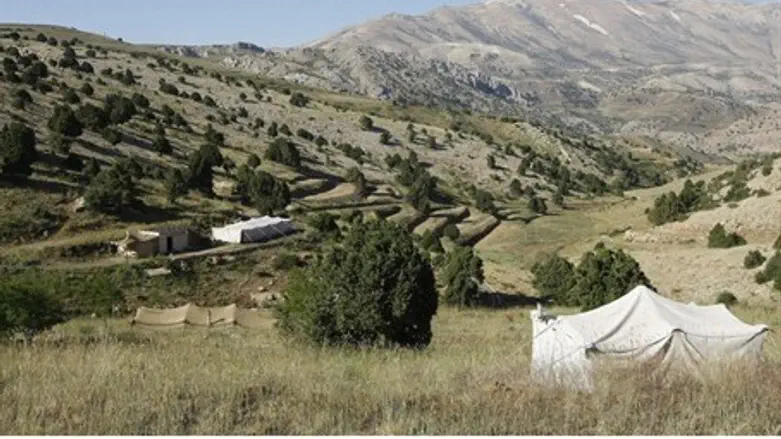 A campsite in Lebanon's Bekaa Valley
AFP/File
Three rockets launched from across the border with Syria hit the Bekaa Valley of eastern Lebanon Saturday, causing no casualties, a security source told AFP.
"Three rockets launched from across the border with Syria hit an area that lies between the villages of Labweh and Jabbureh," the source told the news agency.
The rockets struck some 30 kilometers (20 miles) north of the city of Baalbek, a stronghold of the Lebanese terrorist groups Hezbollah.
"There were no casualties, but some trees in the area went up in flames," the source said.
Saturday's incident is the latest in a string of cross-border rocket attacks that have escalated as Hezbollah's involvement in Syria's brutal conflict has increased.
Initially Hezbollah said it wanted only to defend 13 Syrian villages along the border where Lebanese Shiites live, and the Sayyeda Zeinab shrine near Damascus, which is revered by Shiites around the world.
However, its terrorists later encircled Qusayr with regime troops before the launch of a withering assault on the strategic border town. Hezbollah leader Hassan Nasrallah has promised that his group will be wherever is needed in Syria and has even declared he was willing to go fight in Syria himself.
Hezbollah's involvement in the Syrian civil war has led to sectarian clashes in Lebanon.
At least 20 people were killed on August 15 by a large explosion in the Hezbollah stronghold in Beirut. A month earlier, over 50 people were wounded when a car bomb exploded in the same area.
On August 23, more than 45 people were killed after twin car bombs exploded outside Sunni mosques in the Lebanese city of Tripoli.