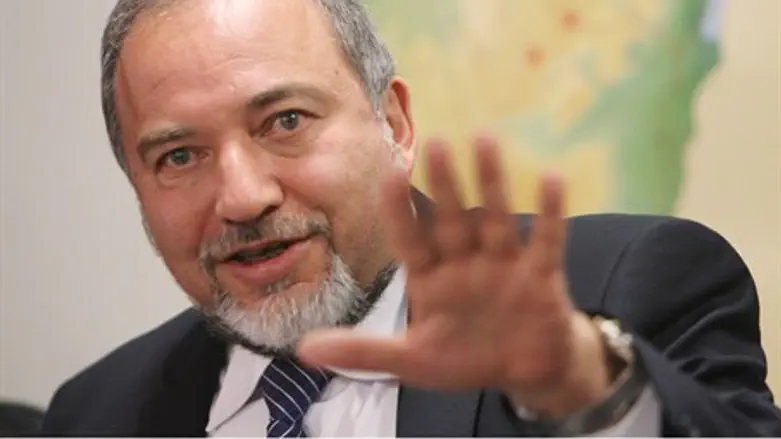 Avigdor Lieberman
Israel news photo: Flash 90
The chairman of the Knesset's Foreign Affairs and Defense Committee, MK Avigdor Lieberman, pointed Wednesday to what he sees as a common denominator between Israel's failure to predict the Yom Kippur War in 1973, and the bloody aftermath of the 1993 Oslo accords. In both cases, he wrote on his Facebook page, a preconceived notion stood in the way of the perception of reality. He hinted that the same danger exists today, from the so-called "peace process" with the Palestinian Authority (PA).
Next week, he noted, "we will mark, on back-to-back days, the 20th anniversary of the signing of the Oslo accords, and the Hebrew date marking 40 years since the outbreak of the Yom Kippur War.
 "Taking into account all of the essential and basic differences between the two events, in both of them it was the preconceived notion – which, in the case of Oslo, continues to this day, in some people's minds – that led to harsh results and the loss of many lives."
Lieberman noted that while it is a matter of consensus today that the nation's leadership before the Yom Kippur war was captive to a preconceived notion, as regards Oslo "there are still some people who won't let reality confuse them."
"Even today, 20 years after, there are still those who are held captive by the preconceived idea. The Oslo accord, which was supposed to lead to a comprehensive peace between Israel and the Palestinians, let in actual fact to thousands killed in terror acts and war, and to an inability to advance toward a comprehensive solution and an end to the conflict."
"The basic mistake in that preconceived idea regarding the Oslo accord," he added, "is not understanding that one cannot force a peace agreement from above and expect security and economic growth to result. The order is opposite: only after Israel receives security, and the Palestinians achieve financial welfare, will we be able to achieve a political solution. Any attempt to reverse the natural order will lead to failure and it makes no difference what the process is named and who leads it. I do not believe in imposing peace. Peace must be built."
Instead of trying to reach a "forced" arrangement, Lieberman said, Israel and the PA should concentrate on coordination on matters of security and economy.
"We must not create illusions again, and unrealistic expectations, which will – like Oslo – lead to disappointment and frustration, and as a result of that, to violence and terror," Lieberman maintained.