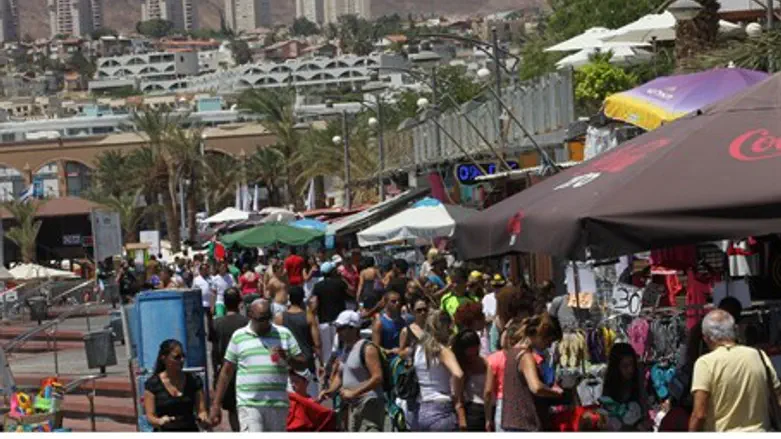 Tourists in the southern Israeli city of Eila
Flash 90
As tensions north of the Israeli border mount, the country's tourism industry is proving surprisingly resilient, showing only a minor drop compared to August last year, and even a slight increase in tourism figures for the year so far.
According to the Central Bureau of Statistics, there has been a mere 5% decrease in the number of tourists entering the country compared to the same period last year, despite the escalating Syrian crisis, with a total of 284,000 visitors entering Israel in August 2013.
That figure is still 5% more than the same period in 2011, and 2% more than in 2010.
The resilience of the Israeli tourism industry is all the more remarkable, given a whopping 82% decrease in visitors entering on day-trips from Egypt's Sinai Peninsula, as a result of ongoing clashes there between government forces and armed Islamist groups.
This year so far, approximately 2.3 million visitors arrived in Israel, present a 0.3% increase on the same period in 2012.
That figure is 7% more than 2011 and 6% more than 2010. 
In a statement to the press, Tourism Minister Dr. Uzi Landau hailed the figures.
"Since the beginning of the year, we have witnessed record numbers of incoming tourists," he said, pointing to the statistics as proof that "Israel remains a safe destination for tourists from around the world and for domestic tourism."
However, it should be noted that the recent threats of western strikes on Syria - and possibility of a resultant wider regional conflagration - only arose in late August, following the alleged chemical attack by the Syrian regime against its own civilians on August 21st. Most visitors' August plans are therefore unlikely to have been affected by the subsequent crisis.
The real test could come in like-for-like figures for the coming months, particularly during September, as Jews from across the world flock into Israel to celebrate the festival of Sukkot.