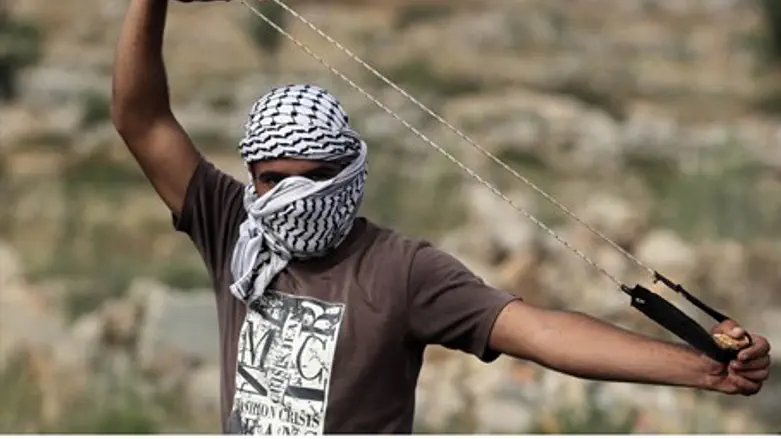 Rock-throwing terrorist
Flash 90
Jewish residents of Jerusalem's Abu Tor neighborhood have been the victims of repeated rock attacks by Arab residents of the neighborhood.
One of the Jewish residents of Abu Tor, Ruth Pross, told Arutz Sheva on Monday that the attacks are perpetrated by Arabs aged 18 to 22 who gather outside the homes of the Jewish residents of the neighborhood and pelt them with rocks from a distance of about 100 feet.
During Sunday's attack, she recalled, five Arabs carrying a large box with blocks and rocks gathered at a curb near Jewish homes in Abu Tor. They then proceeded to throw the rocks and, noted Pross, they were a group of well-trained rock throwers who were able to repeatedly and accurately hit vehicles and homes belonging to Jews.
Within moments of the beginning of the rock attack, said Pross, the ground was literally flooded  with rocks .
"Kids were very scared," she said. "One screamed in fear. We were sure that an Arab rioter had broken in, but it turned out it was a boy who was just scared and screaming. The incident ended only when they ran out of rocks."
Residents called the police, who arrived about eight minutes later, said Pross. The officers detained several Arabs but released them shortly thereafter when no evidence tying them to the incident could be found.
Pross said that Sunday's incident occurred just one day after a similar incident which was likely perpetrated by the same Arabs. In both cases there were no casualties, but the residents of the neighborhood see these two incidents as an escalation in rock terror attacks since, until now, the rock throwing was carried out by individual Arabs and not by a group of well-prepared rock throwers.
Despite the repeated attacks, Pross declared that the Jewish residents of Abu Tor have no intention of leaving. "We did not come here to live in peace. We knew what we were getting into," she said, calling on police and security forces to step up the enforcement against the Arab terrorists "just as they know to enforce the law against the Jews."
Arutz Sheva has reported on many occasions about rock attacks targeting Jews in Jerusalem, Judea and Samaria and other areas of Israel.
In July, a 15-year-old teen and a 40-year-old man were wounded in a rock attack on a bus in Jerusalem.
Arab terrorists hurled rocks at the bus as it was travelling from the Neve Yaakov neighborhood towards central Jerusalem.
The week before that attack, Arabs hurled large rocks at an Egged bus as it traveled past the Damascus Gate.
Four people were lightly wounded, all of whom were treated at the scene by medics from the Magen David Adom emergency medical service. The wounded include a baby.
In another incident in the month of July, an Arab youth threw a rock at the Emunah College of Arts and Technology, also in Jerusalem.
The rock hit a 10-year-old girl in the head. The girl, who sustained minor injuries, was treated by a team of Magen David Adom paramedics who then took her to the Hadassah Ein Kerem Hospital.
Rock attacks perpetrated by Arab terrorists have killed and maimed many people, including babies. These include three-year-old Adelle Biton, who was critically wounded in a rock terror attack in Samaria in March, and infant Yonatan Palmer, who was killed along with his father, Asher, when an Arab terrorist hurled large rocks at the Palmers' car in September of 2011.