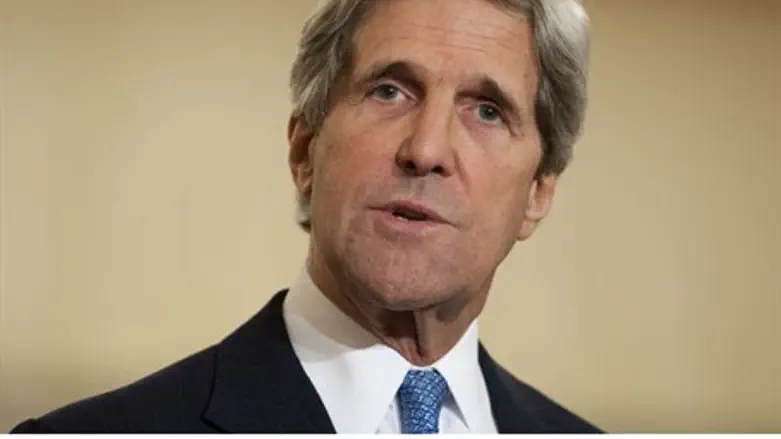 John Kerry
AFP file
Despite an unprecedented campaign by US President Obama to push for Congressional support on military intervention in Syria, the Obama administration has not been letting up on its efforts to impose a "solution" to the Arab-Israeli conflict.
Reaffirming America's commitment to the current round of talks between Israel and the Palestinian Authority, US Secretary of State John Kerry said Sunday that Israel and the Palestinian Authority are determined to push forward with "peace talks."
"Despite tough decisions that have to be made and despite pressure that exists on both sides... both the Palestinians and Israelis have remained steadfast in their commitment to continuing the talks," Kerry said in Paris after a meeting with Arab League officials.    
Ahead of talks with Palestinian Authority President Mahmoud Abbas in London later Sunday, Kerry also said he planned to meet Israeli Prime Minister Binyamin Netanyahu "shortly" to discuss peace efforts.  
In regards to the talks with Arab League officials, Kerry said: "We all of us agreed that a final status agreement is important in enhancing regional security and stability throughout the Middle East."
Direct talks between Israel and the Palestinian Authority resumed on July 29, after Kerry shuttled between Jerusalem, Judea and Samaria, and Jordan for several months seeking to end a three-year stalemate in the negotiations.
The two sides have since met three times in August and in early September in Jerusalem. 
In line with Kerry's desire to keep the details of the negotiations secret in order to give the process a chance to work, both Israel and the US have been notably tight-lipped about their progress.
Not so the Palestinian Authority, whose officials - including its own chief negotiator - have issued several leaks which may lend some insight into the direction of the talks thusfar. 
And those leaks, if accurate, indicate a willingness by Israel to make substantial concessions - including the wholesale deportation of thousands of Jews and the transfer of their property to PA Arabs. However, the PA official who reported on that Israeli offer added that the PA side had rejected it as not going far enough. 
That Israeli offer was reportedly made as part of a proposal to create a "Palestinian state" in Judea and Samaria along interim borders, pending a final-status agreement. Those rumors have alarmed Jewish residents of Judea and Samaria, who fear that such an arrangement will put their lives in danger.
"The establishment of such a state will not allow IDF soldiers to prevent terror attacks that are organized in Ramallah or Shechem, since international law does not allow such an incursion into a state like the one that is being planned," said Yigal Dilmoni, who heads the public information department of the Yesha Council, an unofficial federation of Judea and Samaria community leaders.
On Sunday, grassroots activists were joined by communal leaders, Members of Knesset and even government ministers, in a protest against such Israeli concessions and opposing the secretive nature of the talks.
"We're here to sound the warning bell and to tell Bibi (Netanyahu), 'You looked us in the eye before the elections and said, 'I'll defend the land of Israel.' We expect you to protect the land of Israel,'" said Gershon Mesika, head of the Samaria Regional Council, in an interview with Arutz Sheva.
"What worries us most is what we don't know," he added,  "The ambiguity and putting everything in [left-wing Justice Minister] Tzipi Livni's hands worries us," he said.
"If there's nothing to hide – why are they hiding?" Mesika asked.
Livni's role in the talks has been questioned by many Israelis.
A recent report by the Maariv newspaper suggested that Livni - who serves as Israeli's chief negotiator with the PA - had been "undermining Israeli interests" by making promises of wide-reaching Israeli concessions to the PA side independently of the Israeli government itself. Those promises reportedly include the partition of Jerusalem - something opposed by the vast majority of Israelis.
In a leak by the PA's own chief negotiator Last month, Saeb Erekat, told an Arabic radio station that the US has guaranteed the PA all of its key preconditions in advance of negotiations.
The Palestinian Authority has also stood accused of "lying" and spreading misinformation regarding the progress of negotiations, after a spokesman claimed talks had been cancelled following the death of three Arab rioters during an attack on Israeli security forces.
Shortly afterwards it was revealed that the talks had been unaffected by the incident and had continued as scheduled. 
Meanwhile, on Sunday the Israeli cabinet agreed to provide 5,000 more work permits to Arab workers from within PA-controlled areas as another "goodwill gesture" to the PA. However, despite the initial motivation for the decision, pressure by Bayit Yehudi (Jewish Home) ministers resulted in a decision not to tie the work permit increase to negotiations.