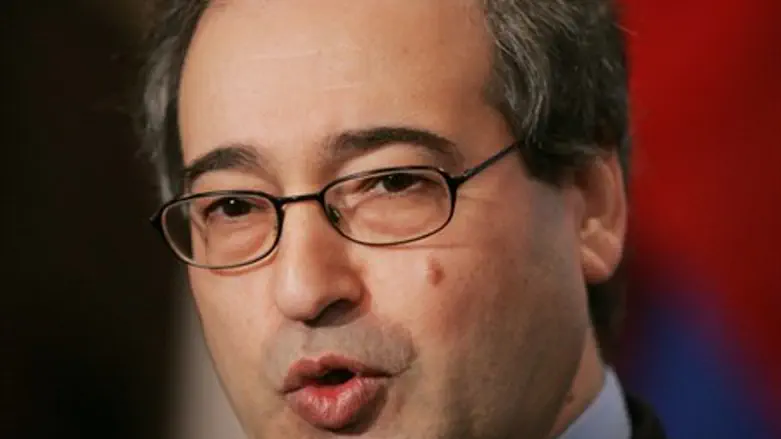 Faisal Mekdad
Reuters
Syrian officials and official mouthpieces are gloating over what they say is a retreat by US President Barack Obama from his threats of military action against Syria.
"Obama announced yesterday, directly or through implication, the beginning of the historic American retreat," Syria's official al-Thawra newspaper said in a front-page editorial.
Syrian Deputy Foreign Minister Faisal Mekdad told reporters in Damascus on Sunday that "It is clear there was a sense of hesitation and disappointment in what was said by President Barack Obama yesterday. And it is also clear there was a sense of confusion as well."
Official news agency Sana reported that Syria's permanent representative to the UN, Dr. Bashar al-Jaafari, has sent letters to the UN Secretary General Ban Ki-Moon and President of the UN Security Council (UNSC), Maria Cristina Perceval, in which he claims that "some hostile countries launched a campaign to accuse the Syrian government of using toxic chemicals in Damascus Countryside on August 21," and that US Secretary of State John Kerry has adopted "old stories fabricated by terrorists more than a week ago," presenting numbers and information that are "completely false."
The Syrian government "has defied the American administration to show one credible evidence on the allegations regarding using chemical weapon," he said, but Kerry relies on "internet fabricated photos."
Earlier, Dr. al-Jaafari said that US President Obama and British Prime Minister David Cameron "climbed to the top of the tree and don't know how to get down," which is why they resorted to the House of Commons and the Congress "to seek a way out of the trouble they got themselves into, or were placed in by others," Sana reported.
In a phone interview with Syrian TV on Saturday, al-Jaafari said that Obama is under "a lot of pressure from the hardline right wing, neo-Zionists, Israel, Turkey and some Arabs, and that he did well by emulating Cameron by referring the decision of waging an aggression on Syria to the Congress, which is how Cameron 'got down from the tree.'"
Al-Jaafari claimed that western media have become very pro-war, noting that CNN "began to criticize Obama immediately after his speech, saying that he hesitated and changed his mind."
His comments were the latest in a series of gloating remarks by Syrian officials since Obama announced his decision to defer to Congress for a decision on any military intervention in Syria, as Washington's standing in the Middle East appears to have been somewhat eroded by the administration's perceived hesitancy.
Israeli politicians have also responded strongly to Obama's uncertainty, with some publicly questioning America's willingness to back the Jewish state in a time of crisis, particularly vis-a-vis Syria's Iranian patrons.
During a cabinet meeting Sunday, Tourism Minister Uzi Landau (Likud) summed up the general mood among many members of Israel's ruling coalition government: 
"If on the Syrian issue, Obama hesitates, it's obvious he will not attack Iran, a move expected to be far more complicated. Obama hesitates too long, and therefore there's a greater chance that Israel will act alone," Landau said, quoted by the official IDF Radio.
Responding to a question as to whether he trusted US President Obama, Landau simply remarked, "I trust our heavenly Father and with Israel. The U.S. president has spoken, and we have to return to our regular lives."
Israeli Prime Minister Binyamin Netanyahu, meanwhile, has cautioned Israel's foes to think twice about attacking the Jewish state in the event of a US strike.
"Israel is calm and sure of itself, the citizens of Israel know that we are prepared for every possible scenario," he told ministers at the start of the weekly cabinet meeting.
"Our enemies have very good reasons not to try our strength, not to test our power," he said. "They know why."