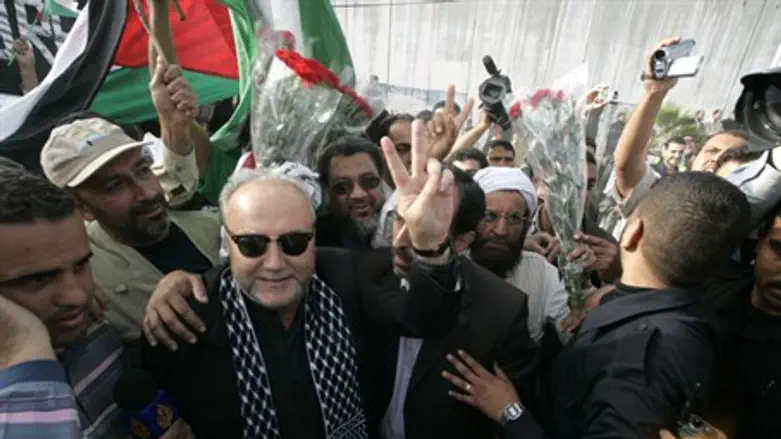 Galloway in Gaza
Flash 90
A week after accusing Israel of giving Al-Qaeda chemical weapons to use against civilians in Syria, British MP George Galloway was caught lying about his remarks during a debate in Parliament.
Galloway, who is known for his vehemently anti-Israel views and for his support for the Hamas terror group, claimed last week during his program on the Iranian state-run Press TV, "If there's been any use of nerve gas, it's the rebels that used it...If there has been use of chemical weapons, it was Al Qaeda who used the chemical weapons. "Who gave Al Qaeda the chemical weapons? Here's my theory: Israel gave them the chemical weapons."
On Thursday, during a debate in the British Parliament on whether to take part in a military offensive against Syria, Galloway was challenged by Matthew Offord, a representative of Hendon in North London.
Offord said he had received several e-mails from constituents on Galloway's hateful remarks, then said, "I would find that very hard to believe that the honorable member said that, so would he like to take this opportunity to refute that, or provide the evidence to satisfy my constituent?"
In response to Offord, Galloway said that letters from constituents were "unreliable", because, he claimed, "I said no such thing."
Galloway was thrown out of the British caucus in 2003 after vocally opposing Britain's involvement in the war in Iraq. He heads the British pro-Hamas Viva Palestina, which last year tried to bring in an aid convoy to Gaza but was stopped by Egyptian authorities.
Most recently, Galloway stormed out of a debate at Oxford University after learning that his opponent was Israeli.
He advocated that "Israel should withdraw immediately from the West Bank", while his opponent, Eylon Aslan-Levy, claimed that a withdrawal should take place only as part of a negotiated peace agreement.
After Levy used the term "we" to describe Israel's stance, a perturbed Galloway interrupted asking "You said 'we,' are you Israeli?"
After his opponent answered in the affirmative, Galloway said, "I don't recognize Israel and I don't debate with Israelis," as he stormed out of the room.