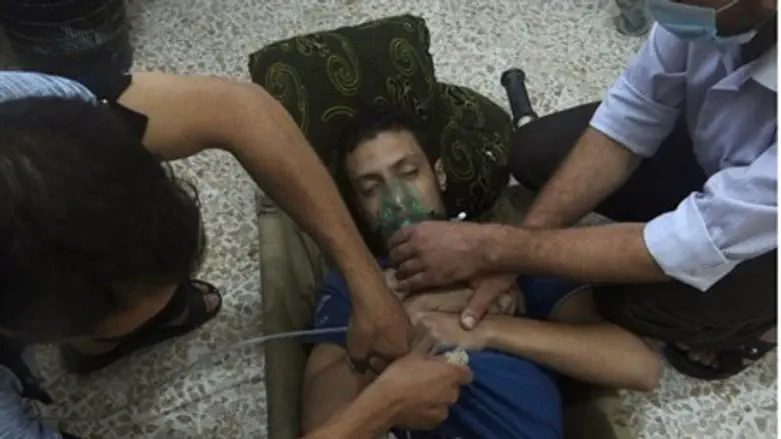 Victim of gas attack in Syria
Reuters
A BBC team inside Syria filming for the Panorama program witnessed the aftermath of a fresh horrific incident, an incendiary bomb dropped onto a school playground in the north of the country.
The attack left scores of children with napalm-like burns over their bodies, the network reported on Thursday.
Eyewitnesses described a fighter jet dropping the device, a low explosion, followed by columns of fire and smoke. The children victims were described as behaving "like the walking dead."
A video documenting the aftermath of the attack was posted on the BBC's website, but Arutz Sheva has decided not to post it here due to its graphic nature.
Throughout the civil war in Syria, which has been going on for more than two years, both forces loyal to President Bashar Al-Assad as well as rebels have committed atrocities.
Members of jihadist groups, such as the Al-Qaeda affiliated Al-Nusra, have committed several atrocities that Arutz Sheva has reported about, including publicly beheading a Catholic priest who was accused of collaborating with Assad's regime.
Video footage posted on the Internet several months ago documented a rebel fighter eating the heart of a government soldier. Rebels have also been documented torturing "traitors" who they accused of collaborating with Assad's troops.
The incendiary bomb incident comes a week after a chemical attack in the suburbs of Damascus, which rebels said had killed more than 1,000 people.