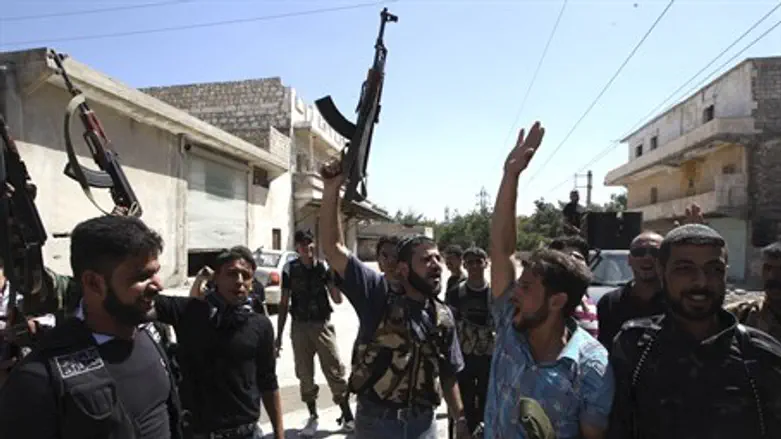 Syrian Rebel fighters
Reuters
If the United States and other Western nations intervene in Syria, Israel will pay a heavy price – not because of immediate retaliation, but because of the nature of Middle East politics, an expert on Mideast affairs has warned.
"Bashar Assad made a huge mistake when he used chemical weapons… But on the other hand, if the West strikes him, G-d protect us," Dr. David Bukay of Haifa University told Arutz Sheva.
"If the Sunni opposition defeats him, that means that next to us, on the Syrian border, will be Al-Qaeda loyalists," he warned.
"We had 40 years of quiet. The Alawite Assad regime was wonderful," he continued. "The Al-Qaeda alternative would be a disaster."
Bukay, who has written on fundamentalist Islam and Arab political culture, told Arutz Sheva that attempts to overturn authoritarian leaders will, in many cases, just lead to violence.
"Everyone there [in Syria] is murdering everyone, it's a terrible tragedy. But that's exactly the nature of Islamist political culture… they reach a positive place only when there is a strong leader who can hit them on the head," he argued. "Arab rulers have to use violence, because without violence, they cannot rule."
Assad has warned the West that by supporting his opponents, it supports Al-Qaeda. "The West has paid heavily for funding Al-Qaeda in its early stages. Today it is doing the same in Syria, Libya and other places, and will pay a heavy price in the heart of Europe and the United States," he told the state television channel Al-Ikhbariya.
Analyst Mark Langfan is among those who have questioned the argument that Assad is better than Al-Qaeda. In a recent op-ed for Arutz Sheva, Langfan noted that Assad himself assisted Al-Qaeda terrorists in the years before the rebellion in his country.
For now, Al-Qaeda linked groups in Syria are firmly against Assad, and have even vowed revenge on the entire Alawite community for Assad's actions.
Islamist rebel groups have also targeted Syria's Kurdish minority, and have enraged moderate Syrians with actions such as the murder of a teenager for "blasphemy."