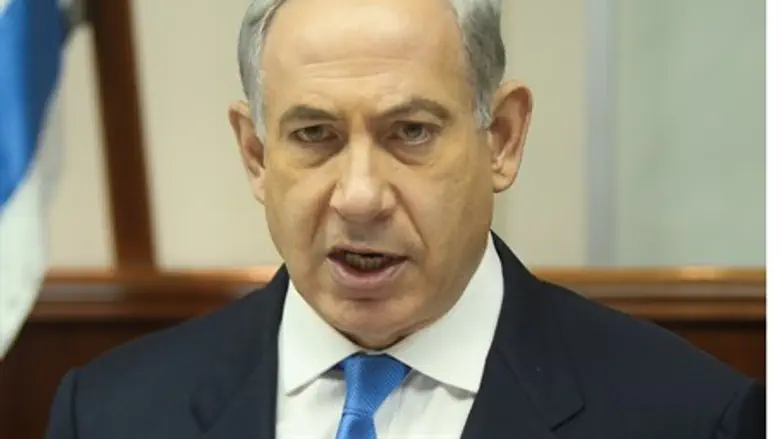 PM Binyamin Netanyahu
Flash 90
Prime Minister Binyamin Netanyahu issued a short statement Wednesday, calming fraught nerves as Israeli citizens brace for a US-led strike on Syria and its possible repercussions.
"Pursuant to the security consultation that was held today, there is no reason to change daily routines," Netanyahu said in a statement relayed by his media advisor.
"At the same time, we are prepared for any scenario. The IDF is ready to defend against any threat and to respond strongly against any attempt to harm Israeli citizens."
Following reports of an upcoming attack by western powers in Syria, the IDF has decided to deploy a second Iron Dome anti-missile battery in northern Israel.
In addition, a Patriot battery has been deployed in central Israel.
The IAF, meanwhile, has decided to raise the level of alertness of its Arrow 2 missile system as well. The Arrow 2 is designed to intercept ballistic missiles.
IDF Spokesman Brig. Gen. Yoav Mordechai posted on his Facebook page that "It is important to make clear that the developments around the events in Syria... are being led by the U.S. with a widening coalition, which includes other countries in the Middle East.
"As is required, the IDF is examining, following and watching the developments, hour by hour. The Home Front Command knows its job well and is prepared to give any required solution for the population, and therefore there is no reason to change our daily routine," the spokesman said.
Earlier today, Prime Minister Binyamin Netanyahu convened the Diplomacy and Security Cabinet, in order to discuss the preparations for the expected US strike in Syria. The ministers heard intelligence briefings and were briefed on the security establishment's preparations for an attack on al-Assad's regime.
US President Barack Obama spoke with British Prime Minister David Cameron Wednesday morning and coordinated positions regarding an attack in Syria. The leaders agreed that the Syrian regime was behind the chemical weapons attack in Damascus last week.