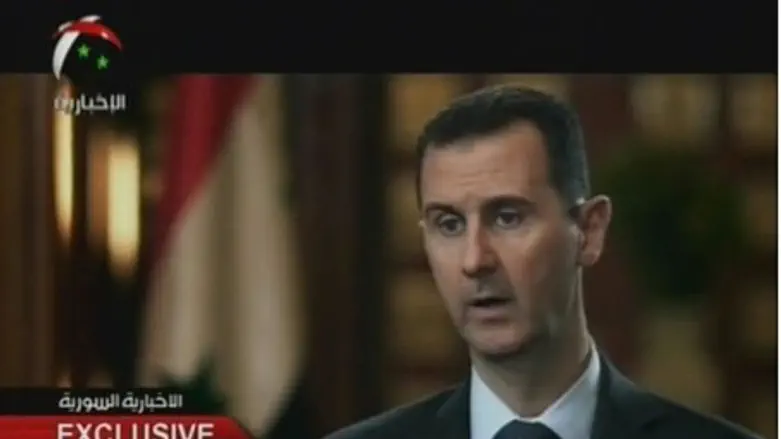 Assad on state television channel Al-Ikhbariy
AFP photo
Syrian President Bashar al-Assad and members of his family are in Tehran, after they arrived at Homeini Airport in the presidential plane Tuesday night, sources in Iran's foreign ministry told the website of Lebanese newsaper a-Nahar. The news did not receive confirmation from other official sources.
Daily newspaper Israel Hayom, which cites the report, notes that a-Nahar is considered close to Hezbollah as well as to the leadership in Syria and Iran. 
According to the a-Nahar report, Assad was also accompanied by senior members of his government. They are to hold discussions with senior Iranians regarding the Syrian response to a possible U.S. strike on Syria, which is expected to take place soon.
A senior official in the Syrian army warned the United States and its allies on Tuesday that waging a full-scale war on Syria would be reciprocated with an immediate attack on Tel Aviv.
"If Damascus comes under attack, Tel Aviv will be targeted too and a full-scale war against Syria will actually issue a license for attacking Israel," the Syrian army source told the Iranian Fars news agency.
"Rest assured that if Syria is attacked, Israel will also be set on fire and such an attack will, in turn, engage Syria's neighbors," he added.
The source also warned the U.S. and other Western states that if Syria grows weak, "certain irresponsible groups" will be formed which will endanger Israel's security.